1,400 New Staff a Day: Inside Amazon's Huge Hiring Spree
Amazon is undergoing another hiring spree to make up for the increased online sales over Cyber weekend and the pandemic-fuelled online boom.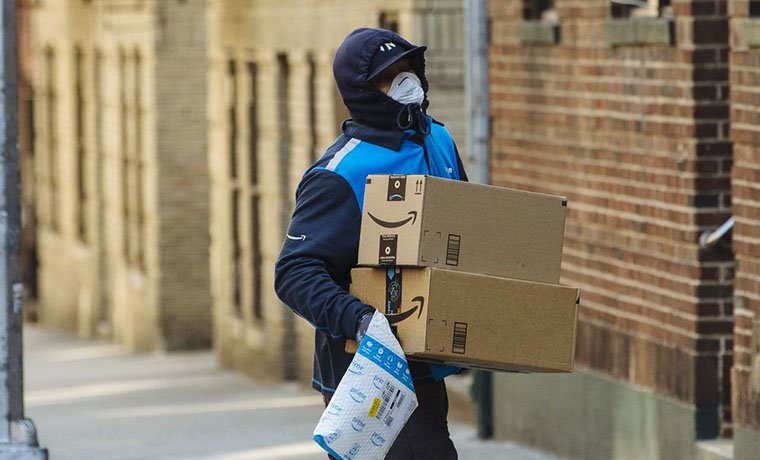 Amazon is adding 1,400 new staff members a day and has added approximately 430,000 new roles from January to October this year alone.
According to the New York Times, the company now has more than 1.2 million employees, meaning it has increased its staff by more than 50 percent.
"Offering jobs with industry-leading pay and great health care, including to entry-level and frontline employees, is even more meaningful in a time like this," explained Jeff Bezos, the Founder and CEO of Amazon, in last month's financial update.
According to Cloudfare, the Cyber Monday sales in 2019 were low compared to Black Friday's. However, this year's Cyber Monday event saw a spike of 80 percent in traffic to eTail sites on Monday alone.
Friday and Monday have shown to be the most popular shopping days during the Cyber Weekend event, but there was a 40 percent to 50 percent increase in e-commerce traffic on Saturday and Sunday, globally.
The lead-up to the Cyber Weekend sales began ramping up in early and mid-November, which was predicted by Power Retail in the fifth edition of the Trajectory Report.
In early October, Power Retail projected that shoppers would begin their Christmas shopping as early as the end of October, with shipping delays significantly impacting their shopping in the lead up to the holidays.
Seventy-eight percent of Australian shoppers said they would be starting their online Christmas shopping early to avoid by delivery delays, with only 55 percent saying they were worried about the delays in the lead up to Christmas.
The hiring spree from Amazon is a reaction to this spike in online shopping and as a result of the pandemic.
Many of Amazon's new workers are in the warehouse and DCs across the globe. As such, the company is also planning to hand out $3,000 sign-on bonuses for its new staff.
In 2020 alone, Amazon hired more software engineers and hardware specialists, as the online boom continues to drive sales across the globe during the pandemic. These new hires aim to power cloud computing, support its e-commerce platform and other IT enterprises.
Last year, Amazon hired 200,000 temporary workers at the height of the holidays. From March to April 2020, Amazon hired 175,000 new staff to help aid with the pandemic-fuelled purchases. It has since hired another 100,000 workers in September.
This is not the only retailer to have a mad hiring spree, but it's certainly the most significant. Across the United States, Walmart and Target have experienced similar hiring surges, thanks to increasing profits from online sales.
While the online shopping shift has been significant throughout the year, there will be an undoubtedly large increase in deliveries from Black Friday, Cyber Monday and the lead up to the holidays.
"Amazon is a well-oiled machine," said Andrea Leigh, the VP of Strategy and Insights and Ideoclick, and a former Amazon Executive. "They're not going to be the ones that are going to fall down this holiday."
Like this story? Click here to find out more about Power Retail E-Commerce Intelligence or here to sign-up for the free weekly Pulse Newsletter for more essential online retail content.