Ask the Experts: Makeup & Skincare Online Retailers
Beauty and skincare are some of the most popular and competitive industries within retail. We've asked a series of e-commerce experts to dissect three of Australia's favourite beauty and skincare online retailers.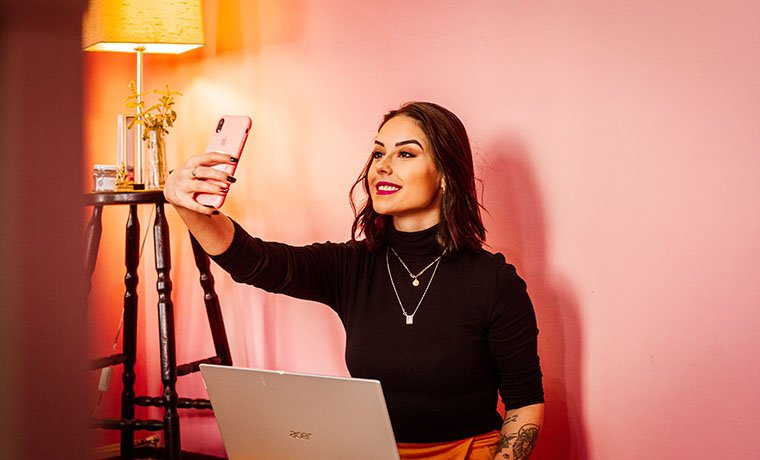 Beauty and skincare are some of the most competitive industries for retail. From trending items to sustainability, there are plenty of brands that play in the game. We sat down with Samantha Hurst, the Founder of Click Start Digital, Jane Magoffin, the Digital Account Manager at Reload Media, and Jordan Wilkes, the Founder and Director of Stride, to examine some of Australia's leading beauty and skincare online retailers.
Lush
Lush is a cosmetics and skincare company that has taken over the world. It was founded in Poole, England in 1995 and now sells in 49 countries and has a strong online presence. The brand is famous for its ethical and vegan products, as well as its 'no advertising' policy.
Home Page
Samantha: "When consumers visit a website selling products the website needs to push them right away into taking an action. Lush did this well with the call to action 'view our naked products' on the home page, but I do find the busyness of the site a little distracting"
Jordan: "the first thing I notice when I land on Lush is that the homepage is tailored accordingly by mentioning "feeling the winter chill?". This automatically grabs my attention as it is freezing right now in Melbourne!"
Jane: " Lush, takes a different approach to their homepage than the traditional e-commerce layout. With a focus on blending "featured products' modules, 'featured categories' jig-sawed in with editorial content pieces, the brand clearly putting emphasis on building the brand knowledge and being a thought leader in the handmade cosmetics space, as opposed to simply a retailer. Their homepage is equipped with CX golden child, a floating navigation, which is great from a usability & conversion rate perspective. Interestingly, the brand's primary USP's don't come of mention until just above the footer."
Product Page – Dream Cream
Samantha: "I would prefer to see an image of the actual product in its packaging. I clicked on Dream Cream, and I still couldn't see an image of the actual packaging, just a video showing how the cream is applied. Having the reviews of the products and the ingredients very prominent on the page is a positive, but I would prefer to see the packaging versus a video of someone rubbing lotion on themselves. I also found the product page very busy and your eyes don't know where to go because there is a lot going on. The call to action (add to cart) isn't prominent and I think this is a mistake when you have an e-commerce store. You need to take consumers on a quick and easy journey (to the checkout) so calls to actions are so important & help increase sales volume & revenue."
Product Page – Ocean Salt Body Scrub
Jordan: " I decided to choose a best-seller for the product page review with the Ocean Salt Body Scrub. Like many consumers, I'm heavily influenced by social proof and my eyes are immediately drawn to the 155 (real) reviews that average at 4.5/5 star rating – very impressive! If I'm to be critical, I did found their product page to lack cohesion as a visitor. I would have liked to have seen more photos, preferably of the product being used, and for the description to focus on the experience one can expect from using this body scrub."
Product Page – Intergalactic Bath Bomb
Jane: "Lush incorporates a heavy use of visual elements on their product page, which is always a create conversion increasing optimisation when it comes to the health & beauty industries. When establishing e-commerce product pages for an item such as a bath bomb, best practice is to generate interest in the tangibility of the product, this can be a challenge when it comes to most e-commerce brands, but Lush does a great job of showcasing this through descriptive testimonials and lengthy product details.
Checkout
Samantha: When I added the Dream Cream product to the cart, I found the cart had too many steps and pages to get through. I think a one page cart works best for e-commerce. A lot of consumers are impatient and don't want to click through a four-page cart.
Jordan: "I found the checkout to be super easy and simple. The fields were laid out clearly and I was impressed with how their order summary highlighted the challenges of COVID-19 for retailers. They were transparent in that there may be delays in fulfilment due to their extra precautions and I firmly believe this is a practice all retailers must be adopting so as to set the right expectations with customers."
Jane: "The checkout process yields 3 steps, when looking at the vast majority of e-commerce websites, this is definitely on the shorter side of the scale. When looking at CRO, the fundamental theory lies in making the customers path to purchase as quick & non-resistant as possible, and the shorter the checkout is a definite benefit here."
Lush – Final Thoughts
How can this retailer improve on their offering?
Jordan: "I'm a big fan of less is more and I found their online experience to be a bit messy and full on. Sticking to the key points, nudging the customer journey and simpler copy are all things I'd recommend."
Jane: "Showcasing key brand features & benefits, showcasing the value proposition of subscribing to newsletters early in the path to purchase, encouraging more first-party data capture through all their content."
Why is this retailer a leader in its category?
Jordan: "I don't think anyone reading this in Australia would have only heard about Lush for the first time. They drive a value-driven customer into their stores and ensure they return by delivering cosmetics that work a treat!"
Jane: "They've got a really strong grip on their value proposition, they know their audience and they tailor what they do well to that customer. I think the e-commerce store holds a strong channel for retention, and the retailer's in-store experience is a paramount driver of showcasing not only the product's benefits but also the immense product knowledge of the brand staff."
Adore Beauty
Adore Beauty is one of the most coveted skincare and makeup online retailers in Australia. Established in 2000 by Kate Morris, it remains one of the original and leading e-commerce platforms in the country.
Home Page
Samantha: "Adore Beauty understand the power of giveaways and freebies with purchase. As soon as you hit their site you are greeted with their latest offer which will often incentivise consumers to shop and get their average order up to get the free offer. The Adore Beauty site is clean, easy to navigate and having the categories in a black bar up the top makes it clear on where to go next when you hit their home page."
Jordan: "the first thing I noticed were two pop-ups; one for the discount code and the other for push notifications. I found that two pop-ups in under five seconds gives a spammy feel to the website. Exit intent would work better and not feel like as much of an interruption. Overall, I found the home page to have a beautiful minimalist design that was easy to follow as a visitor and ensured I knew exactly what they do straight away."
Jane: "Adore Beauty is the Australian epitome of digital best practice, their digital offering touches on all areas of the customer journey, and their homepage is no different. Their homepage puts all the important details in the users eyeline, with key categories, brand features & benefits, current promotions, and top navigation paths all visible above the fold (before you need to scroll)."
Product Page – BB Cream
Samantha: "I clicked onto makeup and tinted moisturisers. What I like about their catalogue page is the opportunity to see what the best selling products are. A lot of consumers like to buy products that other people are buying, and they make this easy to get to. I prefer their product page layout to Lush's – much easier to navigate and you can see images of the packaging. The add to cart button is the first thing you see, which is what you want consumers to click on right away. Reviews, ingredients and how to use are all neatly laid out under the product. Overall I find their product page really easy to navigate, not busy and it encourages me to click on the add to cart button."
Jordan: "Their product page follows a more traditional and simpler template. The 'add to bag' button is nice and obvious. I really like how their product description is cleverly named 'Is this for you?'. It helps to talk with the visitor, as opposed to them. It's a nice touch and this section helps to persuade the visitor that this is a worthwhile purchase."
Product Page – The Ordinary
Jane: "For the vast volume of products on their website, Adore Beauty does a great job at providing in-depth and engaging content on their product pages. The depth of information here no doubt it increases their user experience as well as benefiting various digital marketing tactics (likely dynamic search ads & search engine optimisation). You'll find on this page a wealth of information, giving a strategically placed qualifying description, product information, frequently bought with, Q&A's and review modules on the product page."
Checkout
Adore Beauty – Final Thoughts
Samantha: "Their shopping cart is straight forward and quick, this is really important because the shopping cart abandonment rate is around 60 percent to 80 percent, so you don't want to lose customers here. Having a one page checkout means less clicks for the consumer, and will help with reducing abandoned cart rates."
Jordan: "I found their checkout page to be quite odd as it starts with a page whereby you have to click the button 'pay securely now' to go from cart to starting the checkout. Part of me was worried as my card details are saved to my laptop and I was worried it was going to be one-click purchase (without saying so)."
Jane: "Their checkout process is well designed with an enclosed checkout, this removes all the distracting content and regular navigation, to help improve conversion rates & push users through the checkout. You also see a diverse range of payment options, and promoted free shipping a consistent throughout the experience to really hammer home that USP."
How could this retailer improve on its offering?
Jordan: "I would immediately recommend altering how they start their checkout. I get the rationale behind driving the visitor to complete the purchase with direct language, but I felt it was confusing and misleading. Something more straightforward like 'start finalising your order', or even shipping details would be a more natural start."
Jane: "A.B's e-commerce platform is riddled with heavy custom work and integrations, this can have many effects on areas such as page load speed, this is definitely one that the team would need to keep an eye on. You can see they actually use a tool (Squixa) to help minimise the lag here"
Why is this retailer a leader in its category?
Jordan: "They have built a strong reputation and have lots of brand trust. Further, the fact that they stock hundreds of other brands means that they are able to leverage each brand's reputation to their own advantage!"
Jane: "I strongly agree that Adore Beauty is one of Australia's leaders in the space, their extensive efforts to try and improve all aspects of their digital experience is really evident. They do a wonderful job at personalising the customer journey cycle, this makes a large brand such as Adore Beauty have a great connection and long-lasting relationship."
Sephora
Sephora is one of the leading beauty and skincare retailers in the world. Established in France in 1970, and now houses more than 3,000 brands. It's currently available in 34 countries and remains one of the leading retailers for makeup and skincare in Australia.
Home Page
Samantha: "Sephoras home page is clean and easy to navigate. My eyes are drawn right away to the main home page image which is advertising their latest products. Advertising latest products on the home page is fine, but I think it is a missed opportunity as it won't incentivise consumers to spend money on their site. If they swapped that image out for an image promoting an offer, they would have much more click throughs and potential sales."
Jordan: "To be honest, I was expecting Sephora to mimic their high energy retail stores online, so I was surprised to see a more humble online presence. I really enjoyed this shift as I found it very easy to navigate, especially with clear menus. I was particularly impressed by the 'quizzes' section that I'm sure is invaluable in helping shoppers gauge which product is best for them."
Jane: "Sephora's homepage is what you'd expect from the mammoth and leading cosmetics retailer. With the brand covering an extremely vast number of products in the different beauty verticals, the e-commerce store has a lot to balance. A primary usability function they've implemented is the use of their mega menu, this having a clear drop down with all logical product categories. We also see Sephora very cleverly placing their site search with predictive text, front and centre on their homepage, as with a large product range, many of your consumers will be visiting your site with a specific product in mind, therefore best practice is to help them find this as quickly as possible."
Product Page – Bare Minerals
Samantha: "I chose to view their makeup and BB creams, I clicked on Bare Minerals Complexion rescue, and found the site loaded quickly and the layout of the product page is really good. I love the red Add to Basket button, this is a must. Green would be better (green means go!), but as long as the add to cart buttons stands out and is easy to find. The add to cart button is a call to action, and if you don't tell consumers what to do when they are visiting the online store, they will bounce off or get distracted with something else and not follow through with the purchase."
Product Page – Fenty Beauty
Jordan: "I loved the simplicity of it; how easy it is to change colours, add to basket, zoom in and a recommendation for what to pair it with. The other thing that I adored was how simple their descriptions where across the five tabs. Focusing on the 'details' section, it gave the perfect amount of information without inundating the reader, whilst also fully informing them about the product. Very impressed."
Jane: "Sephora takes a very traditional e-commerce approach to their product pages, This highlighting in limited detail the description, features and benefits of the product before putting a much more significant emphasis on customer reviews. Additionally, Sephora's product pages make a really strong conversion rate play, making the 'next steps" for consumers very clear and logical, they do this by placing the 'add to bag' button above the fold, in a bold red colour while slightly elongated but proportionate to the page – this is a well-known CRO recommendation, by making it extremely clear while someone's perusing a product, what you want the user to do next (e.g. add this product to their cart), this is a fundamental tactic to improve e-commerce conversion rates. Another strong customer usability tactic Sephora enlists on this product page is a "find your shade" functionality to help users colour match & have confidence in purchasing the correct product for them."
Checkout
Samantha: "Sephoras checkout page was easy and fast, and it only took a couple of clicks to get to payments section which is great. Having the PayPal checkout button in the cart area is a must as well. Most consumers that have a PayPal account will find this easier and quicker to checkout with the click of a button. It saves time having to fill in all of your personal information and put in your credit card details as well. A one page (or fast) checkout is equivalent to having a pushy sales lady in a store, it pushes the consumer into the sale quicker and stops them from over thinking about the purchase they are about to make."
Jordan: "The checkout started much simpler. A big red button on the side saying 'checkout' was a clear indicator for what was next. The checkout process was quite seamless and I could track the order along the way. It's a small thing, but address auto-complete is a big help for longer addresses and helps make the checkout that little bit quicker."
Jane: "Sephora's e-commerce checkout process is one of the most sophisticated amongst the health and beauty e-commerce vertical – the clear and simple process is well situated to reduce drop-off. Throughout the checkout process, Sephora gives customers multiple signifiers of trust to minimise these abandon rates & convert customers. You'll see multiple payment methods including fast checkouts such as Paypal OneTouch, and payment plans such as AfterPay. The retailer also makes a conscious effort to refer to writing as a "secure checkout" once this process has been initiated. These elements all help embed trust for the consumers and keep these users interested for longer."
Sephora – Final Thoughts
How could this retailer improve its offering?
Jordan: "I initially entered their .com website and it didn't register that I was visiting from Australia. I was unable to input my Australian address until I put in Sephora's .com.au domain. I would expect a retailer of Sephora's size to recognise this."
Jane: "With retailers of large product volumes, I typically recommend looking at an infinite scroll technique for product categories, this generally keeps users engaged for longer, and encourages them to fill their baskets with more products, this is something Sephora could look to test in a CRO implementation."
Why is this retailer a leader in its category?
Jordan: "Their retail stores are always packed and they are super prominent on social media. Every woman in Australia would know about them, and I'm sure most men would have heard of their store too! They offer a plethora of cosmetic options from a variety of recognised brands, meaning consumers can grab everything they need from the one store!"
Jane: "I do think Sephora is a leader in the beauty e-commerce space in Australia, the brands they stock as a part of their e-commerce offering, as well as the range of products makes an enticing player in the oversaturated market."
Power Retail is dedicated to providing critical and live e-commerce retailer benchmarking data and shopper insights for the online retail industry. Click here to find out more about Power Retail E-Commerce Intelligence or here to sign-up for the free weekly Pulse Newsletter for more essential online retail content.