"Confidence is Key" – Up Close and Personal with Verge Girl
Brisbane-based online retailer, Verge Girl, has made waves internationally and has been spotted on the likes of Ariana Grande and Bella Hadid. We sat down with Natalia Suesskow, Director / Creative Director at Verge Girl, to discuss the retailer's past, present and future.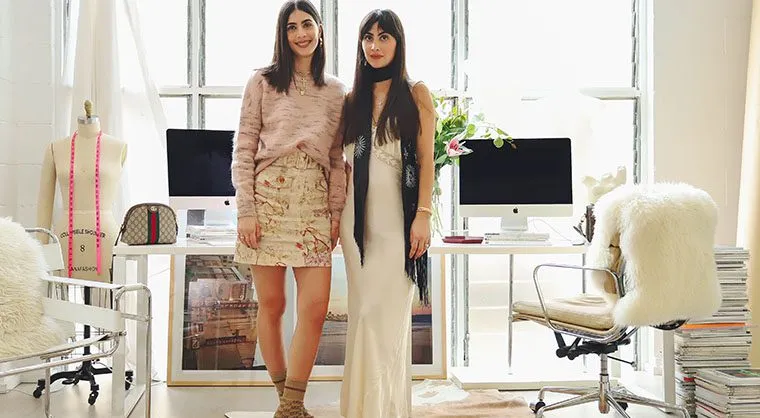 Can you please take us through the history of your online retail business? What was your inspiration for getting into the space, and how has the business evolved?
"We opened our first store in Brisbane city in 2007. Nat was 17 years old and Dan was 19 years old. Our tiny little store was so crazy busy from the day we opened it. We have always made it our mission to provide young women with affordable and cool clothing with a major focus on styling.  There was really not much on offer for young women who wanted new and exciting clothing, but who were also on a budget. The market was really about higher-priced labels or super cheap clothes.
"Filling this gap is what inspired us to start in the first place. Our goal was and still is to help young women feel confident and look cool without breaking the bank. We started our online store seven years ago which completely blew our expectations. We grew over 1000 percent in our first year and haven't stopped growing since. We are now purely an online-based company."
How would you describe your e-commerce business model? What key features differentiate your offering?
"We're a direct to consumer brand that warehouses and fulfils everything in-house. We have our own VERGE GIRL range which makes up the majority of our sales and our marketing is based primarily around influencer collaborations, Facebook/ Instagram ads and email campaigns. Our speed to market of new styles that are carefully curated is what makes VG unique."
Fashion is one of the most competitive industries to enter. What are some key lessons you've learned since starting Verge Girl?
"Find your own niche and stick to it. We do what we really love and we do what is true to our brand. It is really important to not be distracted by everyone around you. We feel that VG being direct to consumers keeps our brand authentic and keeps us focused on our customers. We are not designing for others to sell our product but curating our product for the people we feel we truly understand and that is our own customers."
The pandemic has sent shockwaves throughout the entire planet this year. How has Verge Girl managed this crisis?
"To be completely honest, apart from making small changes like social distancing in our warehouse and office, our sales have grown exponentially and we are proud to be able to have not only kept all our staff on but also hire a number of new team members."
During the peak of lockdown, retail stores had to close their doors and dive into the world of e-commerce. Has Verge Girl experienced an online boom, and what impact has it had on the business?
"One challenge we did face was the cost of air freight for getting stock into our warehouse. We have been paying 5-6 times the cost of shipping, however, we have had no choice as the demand for stock is so great.  We have purchased another warehouse, which we are working on and also leased the warehouse next door to our current space in order to cope with stock volumes and sales growth."
Have you noticed any changes in your customer behaviour since the lockdown began?
"We have noticed that not only are people who have been at home and working from home shopping up a storm, but the excitement of a new delivery in the mail really keeps the spirits up for planned nights out and fun times ahead. This combined with marketing efforts, is really what has caused the huge growth in sales."
Do you think that online retail will continue to be a popular choice for customers after the pandemic has passed?
"Absolutely, I think that having no choice but to order online has not only shown customers how easy and fun it is to shop online but also forced online retailers to get their act together, if they didn't already, to get peoples orders out and keep customers happy and coming back."
Verge Girl has seen celebrities such as Ariana Grande, Bella Hadid and Kendall Jenner wear the brand. How did this impact your business strategy, and is it important for retailers to have celebrities endorse a brand in this modern age?
"We don't specifically target celebrities, with big names like Gigi Hadid, Kendall Jenner, Kourtney Kardashian and Ariana Grande. It is always their stylists who contact us and of course, we send them anything they like. We think because our brand is affordable, targeted to young women and we have such a large volume of new styles weekly, when our customers see these kinds of celebrities are wearing our brand, it really validates the fact that affordable fashion is for everyone. It is not crucial to have celebrities wearing your label but it definitely helps with exposure and credibility."
If you could go back in time to when Verge Girl first launched, would you change anything? If so, what?
"If I could go back in time, the only thing we would tell ourselves is to be bold and not to sweat the small stuff. In the early days, we were really cautious about everything we did and spent. This helped us to set foundations for the profit margins we were able to make and stick to till this day, but also slowed our pace of growth in the beginning. Confidence is key!"
Are there any exciting development coming our way from your brand?
"We are working on a new label from VG and also a whole lot of amazing new ranges that we are super excited about!"
Power Retail is dedicated to providing critical and live e-commerce retailer benchmarking data and shopper insights for the online retail industry. Click here to find out more about Power Retail E-Commerce Intelligence or here to sign-up for the free weekly Pulse Newsletter for more essential online retail content.