Five Questions with Rose Yip, Head of E-Commerce Data Analytics at Australia Post
With more than 17 years of experience in data and analytics, Rose Yip knows retail better than anyone. At the Online Retailer Conference & Expo, we asked Rose Yip, Head of E-Commerce Data Analytics at Australia Post, five questions to find out more about her shopping experience, favourite film and more.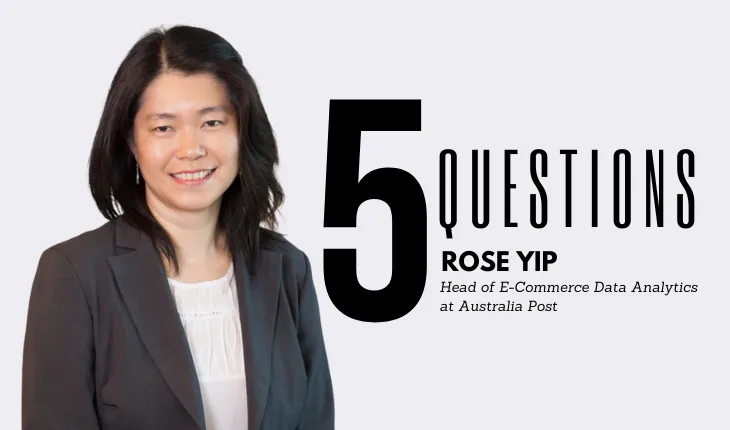 1. When was the first time you shopped online?
The first time I shopped online, I bought something from THE ICONIC. I was doing a study on e-commerce, and I wasn't really an online shopper, and I'd heard a lot about THE ICONIC, so that was one of my first times.
2. What takes up too much of your time?
My partner and I are building a house, we're building a passive home at the moment. I keep saying, 'we're in the final weeks of getting our occupancy', but we're probably going to shift that again. My husband and I decided that we'd take on this journey where we'd get the builders to get us to the lock-up stage, and we'd do the rest of the interiors ourselves. Essentially, we've been sanding the floors, ceilings and all that. Learning a lot of new skills!
3. What is your favourite film? 
Quite a few; we've been watching a lot in the last two years! Mythic Quest is one I enjoy a lot. If you're into games or gaming, then that's the one to watch.
4. Do you have any secret talents? 
Not so sure about 'secret', but one of the new skills I've learned is how to operate an orbital sander. It's one of those really large, commercial sanders. And it's actually not that easy to operate because you need to hold it at a balanced level; every time you move it up or down, it navigates it to move left or right. It's massive; it's huge! I've mastered it to some extent.
5. What is one thing that can instantly make your day better?
My kids! I've got three boys, and they're all going through different stages of their lives. Obviously, COVID has been a bit mean to them (to everyone, to be honest!), so one thing that would make my day better is to have a proper holiday together. We've been building a house and going so through so many things; we just need a holiday together as a family.
The e-commerce landscape is changing. With a Power Retail Switched On membership, you get access to current e-commerce revenue and forecasting, traffic levels, average conversion rate, payment preferences and more!