Highlights from the Sustainability Spotlight Webinar
Power Retail hosted the Sustainability Spotlight webinar on Thursday, 14th July, examining changes in consumer behaviour surrounding sustainable practices, and providing actionable insights that retailers can apply to their strategies in 2022 and beyond. Here are some highlights from the event.
The panel featured Anna Forster, the Co-Founder, and Chief Sustainability Nerd at The Purpose Agents, Jess Dadon, Co-Founder & CEO of TWOOBS and Ellie Degraeve, the Founder and CEO of Go For Zero.
You'd have to be living under a rock to not see the changes in attitudes towards sustainability. But it seems that retailers are a little late to the party. In the webinar, Power Retail and the panellists examined how Australian consumers understand sustainable retailing and how sustainability influences purchase behaviour.
Here is a small snippet of the takeaways from the Sustainability Spotlight webinar:
The webinar featured data taken from Power Retail Switched On benchmarking and surveys, which are drawn from fortnightly survey data with a minimum of 1,000 respondents in each survey.
Retailers are Creating Too Much Waste
Power Retail asked online shoppers to select the three most important sustainability or ethical practices from retailers. Perhaps unsurprisingly, the overwhelming majority of consumers (66 percent) agree or strongly agree that the retail industry creates too much waste.
How does this impact shopper behaviour? They aren't generally considering the lifecycle of a product and its packaging prior to purchase (only 29 percent), and they aren't actively shopping for items that can be recycled or are made from recycled materials (only 22 percent do this).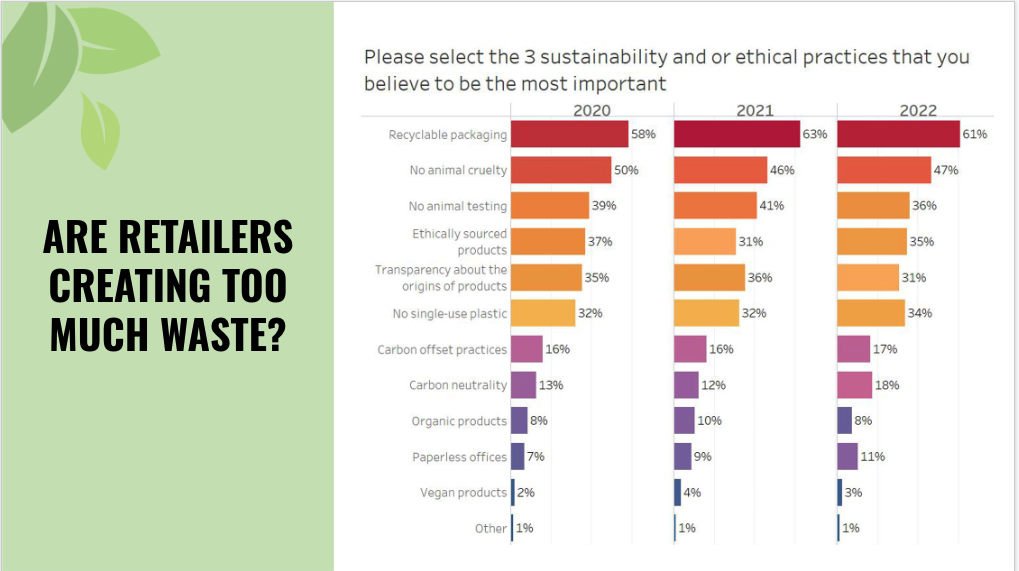 The Price of Sustainability
It's fair to say that more people are now being influenced by sustainable practices than ever.
According to Power Retail data, in 2020 and 2021, half of all survey respondents said their purchases were not influenced by a retailer's sustainability or ethical practices. However, in 2022, this has dropped to 40 percent, meaning the majority (60 percent) HAVE had their purchase behaviour influenced by a retailer's sustainability or ethical practices.
Sustainability is important, but is it something shoppers will pay more for? The majority (62 percent) say yes, and this is a figure that remains essentially unchanged year-on-year.
This means that when strategising for sustainability, you can factor in this kind of pricing rather than take a hit.
Shoppers are becoming more aware, and know that fast fashion and cheap products come with an environmental or ethical price to pay. The flip side, is that they understand the value when sustainable products are more expensive.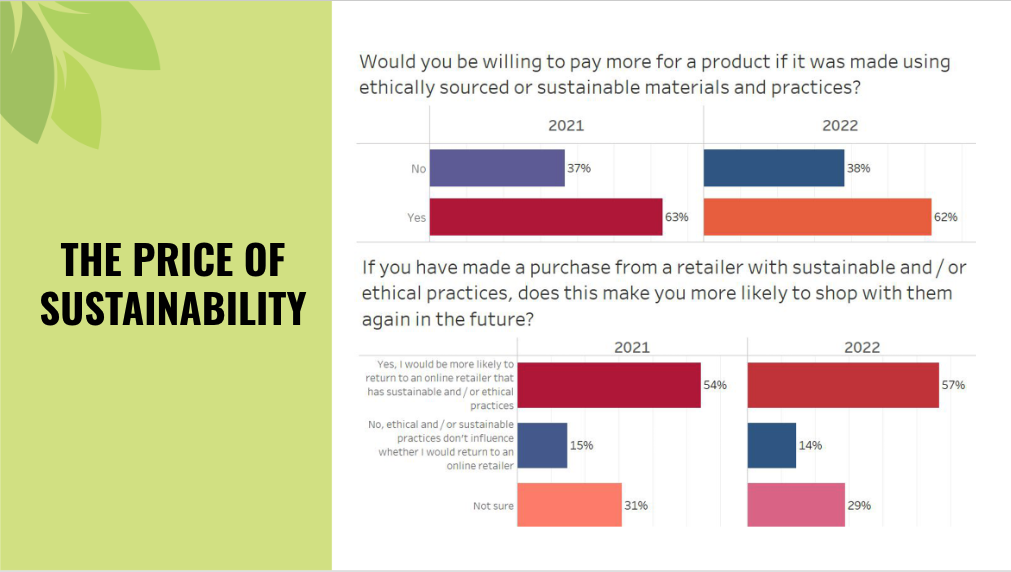 You can watch the entire webinar in full by clicking here. You can also download the full Sustainability Spotlight report here.
The e-commerce landscape is changing. With a Power Retail Switched On membership, you get access to current e-commerce revenue and forecasting, traffic levels, average conversion rate, payment preferences and more!