Inside Catch's Automated Robotic Warehouse
As online sales continue to grow in popularity, the need for speedy and reliable automated warehouse systems are becoming increasingly apparent. We spoke to Ryan Gracie, CMO and Richard Whetton, Head of Fulfilment at Catch.com.au to discuss the deployment of their new automated robots within Melbourne warehouses for faster deliveries and increasing productivity.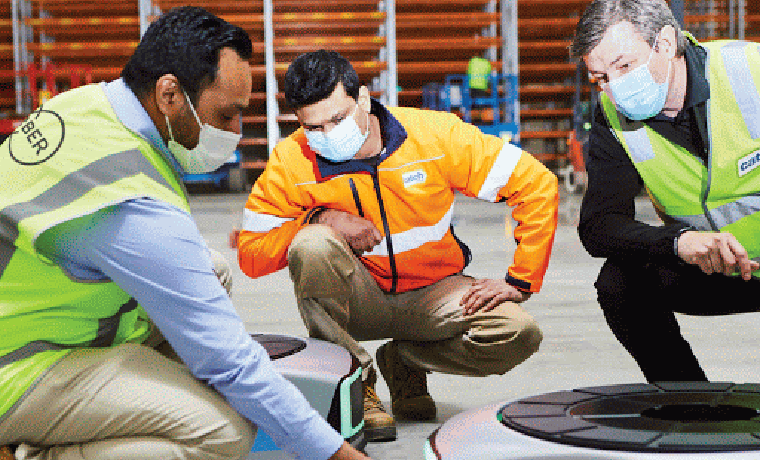 E-commerce has experienced an unprecedented boom in the last eight months. How has Catch coped with this influx, and has the company had to change any strategies going forward?  
Ryan Gracie, CMO, Catch.com.au: "While safety has always been our top priority, COVID-19 brought a new set of challenges for keeping staff and customers safe with the situation changing rapidly every day. Our focus was on ensuring our warehouse team members were safe to continue working on site through the pandemic, while continuing to deliver for our customers.
"We also needed to ensure we could keep up with changing consumer demands. Product shortages of essential goods became a challenge very quickly and our buyers had to scour the world to find the right products at the right price to satisfy what was often very unpredictable demand. 
"We had to shift and adapt quickly in the first half of this year, establishing new ways of working for our head office team members as we continue to grow, hire and onboard new team members at a steady rate, all while working from home. Like everyone, we were all learning to adapt to the situation and we are pleased with how our team has continued to remain upbeat and passionate. Especially our customer service teams who continue to help our growing customer base during such a tough time."  
Could you please explain the process that the robots take to pick the orders, and how much faster and more accurate it might be than manual picking? 
Richard Whetton, Head of Fulfilment, Catch.com.au: "The AMRs (Autonomous Mobile Robots) look like overgrown Roomba vacuum cleaners, and each is capable of lifting up to 500kg. The robots will move underneath a square 'Pod' which looks very similar to traditional warehouse shelving, but with product locations on all four sides. It then picks this up and carries it to a picking station where warehouse workers can grab the units needed to fulfil the specific order. In this way, it's very similar to traditional picking, but instead of requiring a warehouse worker to push a trolley along long lines of shelves where the product is stored, the robot does all the heavy lifting and travels between different locations that house the stock. The robots can deliver multiple pods during each deployment to minimise waiting time for the worker. 
"We have spent a lot of time optimising our warehouses for maximum packing efficiency with the introduction of automated systems, Autostore and KNAPP which enable us to fulfil orders up to three times faster than a traditional warehouse operation. With the introduction of AMRs, we expect the efficiency of order fulfilments to increase up to five times faster than if we were to rely solely on traditional methods." 
In 2014, Catch deployed robots in its Melbourne warehouse. What were the results of this initiative, and how are the new automated robots different from the ones originally deployed? 
Richard Whetton, Head of Fulfilment, Catch.com.au : "Our warehouses have a number of different automated technologies that help us fulfil orders with maximum efficiency. We have deployed two robotic picking systems in our warehouses since 2014, the first, 'Autostore', and the second is KNAPP, a multishuttle technology. In both of these systems the products are stored in 'Totes' (a plastic crate) which are moved around using robots, shuttles and conveyors to deliver them to the picking station. The systems are similar to AMRs in that they work on the principle of bringing the goods to a warehouse picker, saving them a long walk through the warehouse to locate and pick up each product to fulfil an order. Our packaging system is a leader in Australia thanks to our automated packaging technology. It quickly and efficiently packs parcels that are custom-sized to the product, which eliminates the wasteful practice of shipping fresh air or void filling materials.
"Both Autostore and KNAPP are actually faster at picking products than AMRs, but the manufacturing and installation lead times for such systems are significant as they need to be very well planned out in advance. 
"With the recent increase in demand in e-commerce, the long lead times associated with this type of automation means we simply cannot scale fast enough using these solutions alone. One of the great benefits of an AMR type solution is the speed at which they can be deployed and this is why we've chosen to integrate AMRs into our warehouses. The solution partner we are working with, Körber, has been amazing, and has helped to overcome all of the curve balls and wrenches that this crazy year has thrown at us. We are still on track for project delivery this year.
"Autostore and KNAPP are the backbone of Catch's current order picking capability and they will remain in use following the integration of the AMRs. We've learnt a great deal since integrating technology into our warehouses over the last six years, and that has provided us with a unique skill set for an e-commerce player in Australia. There is no other company here that has our experience or know-how using this type of automation, and everyone else that is playing catch up is now facing steep learning curves. We're excited to see the optimal efficiency of our warehouses continue to grow as all three systems work in synchrony, alongside our hardworking warehouse staff."
As Aussies realise the potential of e-commerce over the last few months, there has been a flurry of new customers entering the e-commerce landscape. Has Catch seen a change in customer behaviour, and how has it impacted its strategy going forward?  
Ryan Gracie, CMO, Catch.com.au: "We have definitely seen a change in behaviour. The pandemic has caused an undeniable shift in what we purchase, and how we purchase it. As many Australians felt the effects of economic and job instability, there was a notable spike in traffic from a high volume of searches around 'savings' and 'great value', highlighting the need for even greater deals during these times.
"We have also noticed certain categories increasing in popularity amongst shoppers during this time. For example, the grocery category at Catch has gone through significant growth as more people look to purchase necessities without leaving their homes. We also saw an increase in demand for sportswear and equipment sales as Aussies relied on at-home workouts to stay in shape throughout lockdowns. Finally, a spike in the arts & crafts category occurred as parents looked for ways to keep the kids entertained at home.  
"Another interesting change can be seen in the time of day that people are shopping, with a noticeable increase in traffic during the morning and middle of the day, particularly towards the beginning of the week. This brings to light new patterns of online shopping behaviour while customers work from home. 
"Our strategy remains consistent – to continue to offer our customers great savings on their favourite brands. We're thrilled that so many customers have discovered the ease and convenience of shopping with Catch during this time, and we are working hard to continue to provide even more reasons for them to make Catch their online shopping destination." 
Did Cach foresee an uplift in online customers before the pandemic, or did Catch have to act fast to keep up with the influx of new customers?  
Ryan Gracie, CMO, Catch.com.au: "Catch was already growing fast, but the pandemic fast-tracked a clear trend towards online shopping and accelerated that growth, we could never have predicted the influx we experienced and we didn't know how long the increase in demand would last. We had to work around the clock to ensure we had the products people needed and to help them arrive in time. We imposed limits on certain items so people weren't buying more than they needed. 
"We also had to change the way we operated in the office and warehouse, and we are really proud of how the team adapted so quickly and worked hard to provide a seamless experience for our customers through these challenging times."
Looking back at the last six months, what has been the biggest challenge, and what has Catch learned from the experience?   
Ryan Gracie, CMO, Catch.com.au: "There's no secret that the global pandemic has introduced a range of unexpected challenges, accelerating soft trends such as remote working and online shopping, into necessities. As an organisation, we were focused on keeping our team members and customers safe, while ensuring that products were received on time, despite interruptions. 
"We've learned the importance of flexibility and seen incredible resilience from our team members who were able to adapt quickly to a situation that was changing day to day.  We believe we have come out stronger and more nimble than ever."
What online retail trends does Catch expect to see in the second half of 2020?  
Ryan Gracie, CMO, Catch.com.au: "E-commerce has seen a significant increase in demand across the first half of 2020, as consumers turned online for many of their essential shopping needs. With increasing numbers of Aussies introduced to the ease and convenience of online shopping during this time, the trend is one that is expected to remain.
"As we look ahead to Christmas, warmer weather and an easing of lockdown restrictions, we understand that after a particularly challenging year, many of our customers are eager to reconnect, celebrate and treat their loved ones more than ever."
Like this story? Click here to find out more about Power Retail E-Commerce Intelligence or here to sign-up for the free weekly Pulse Newsletter for more essential online retail content.