JD.com Enters European Market with Robotic Retail Stores
Retail is about to look very different in the Netherlands, thanks to JD.com, which have just launched robotic retail stores for the first time.
The Chinese e-commerce giant has recently unveiled its first two robotic stores in the Netherlands, operating as the gap between in-store and online retail. And they're there to challenge Amazon's lion's share of the retail scene.
What do these robotic shops look like, exactly? The stores have been branded 'ochama', and are located in two cities in the Netherlands: Leiden and Rotterdam. There are plans to launch a store in Amsterdam and Utrecht soon.
Much like traditional Click & Collect, shoppers are able to purchase an item online and pick them up in-store.
However, instead of standing near the Click & Collect counter and waiting for a human to give them their item, the store uses automated vehicles and robotic arms to sort and pick the orders. Once the customer has scanned the barcode on their app, products are then placed on a conveyer belt and delivered. Orders can also be delivered to the consumer's home.
The idea of this store is a blend of 'omnichannel' and 'amazing', allowing shoppers to buy food and non-food items, such as cosmetics and furnishings.
"With rich experience in retail and cutting-edge logistics technologies that the company has accumulated over the years, we aspire to create an unprecedented shopping format for customers in Europe with better price and service," said Pass Lei, the GM of ochama, JD Worldwide.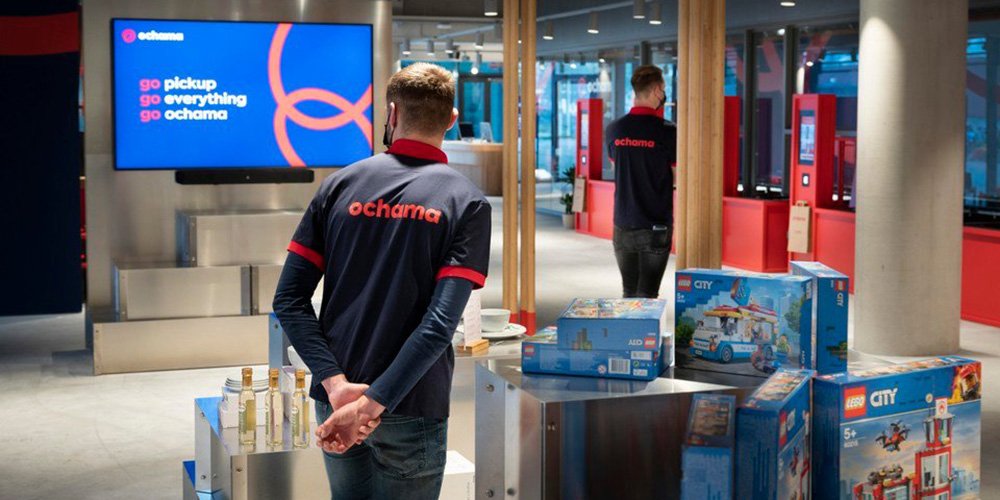 Aside from the novelty of watching your order getting delivered via a conveyer belt (hello Glossier), there's a financial benefit, too. According to Mark den Butter, COO at ochama said that this new format can help cut prices by ten percent, thanks to the retailer making full use of its logistics and supply chain tech.
Of course, the residents of the Netherlands are no stranger to innovation. In fact, den Butter said that Dutch people are enthusiastic about new technology, especially if it's kinder to the planet. And with more than 92 percent of the Dutch population living in densely populated urban areas, the 'one store in one city' concept is sure to take off.
"Dutch people are passionate for innovation and a green environment, and ochama's shopping format is designed to contribute to both aspects," he said. "There will be no queue and fewer traffic jams to do the chores as they can go for convenience, benefits and everything in one stop at ochama."
The launch of this store is also aiming to make Amazon feel unsettled. As Amazon Go – the cashierless grocery store – is unveiled in the UK and the US, JD.com's break into the European market could likely be a threat to the development of other innovative stores by Amazon in the future. But let's be honest, it's not likely.
Is this something we're likely to see in Australia? While it's early days, it would be an interesting concept to see from retailers as we continue to blur the lines between online and in-store.
The e-commerce landscape is changing. With a Power Retail Switched On membership, you get access to current e-commerce revenue and forecasting, traffic levels, average conversion rate, payment preferences and more!