Power Retail and The Purpose Agents Join Forces for Sustainability Spotlight Report
Power Retail is proud to announce that it has teamed up with sustainability consultancy, The Purpose Agents, to produce The Sustainability Spotlight which highlights leading sustainability initiatives in retail, and makes a strong call to action to Australian brands to revamp their operations and rethink their business models in order to reduce their environmental impact.
Sustainability is everyone's business. From consumers to retailers, Australians are demanding greater transparency and sustainability across the board. Climate action was identified as one of the critical issues in the latest federal election, and shoppers are making it known that retailers are producing too much waste. That's why it should come as no surprise that businesses are feeling pressure to make a change in their practices.
Power Retail has joined forces with sustainability consultancy The Purpose Agents to publish a spotlight report that highlights leading sustainability initiatives in retail and makes a strong call to action for Australian brands to revamp their operations and business models in order to reduce their environmental impact.
How Can Sustainability Benefit Retailers?
It's no secret that shoppers want to see more transparency from retailers regarding their ethical practices. The Sustainability Spotlight report from Power Retail shows that Australian consumers are more willing than ever to embrace sustainable practices from retailers. The majority of Australians (67 percent) say that retailers are producing too much waste.
There are obvious benefits to switching to sustainable and earth-conscious practices. Not only is it far better for the planet, but it can also improve loyalty amongst consumers, plus increase conversions.
Almost half (47.16 percent) prefer to shop from a retailer that is transparent about its sustainability practices. Moreover, the majority (55 percent) of Aussies say that they would return to a retailer that has sustainable and/or ethical practices. 
What are the most popular sustainable practices that shoppers want to see from retailers? Perhaps unsurprisingly, 56 percent say that recyclable packaging is the most appealing. In second place is animal cruelty (42 percent), followed by transparency about the origins of the products consumers purchase (41 percent).  
What may come as a surprise, however, is the lower ranking of carbon neutrality, which may come down to a lack of education surrounding the topic. "Carbon neutrality ranks low among the sustainability practices that make a retailer appealing," said Ally Feiam, Editor of Power Retail. "We think this is because there is still a lack of education around carbon emissions in the average products bought. Switching to recyclable packaging, which ranks highest, is a tangible practice that consumers can see and understand, but it does have a smaller emissions impact." 
Anna Forster, the Co-Founder and Sustainability Strategist at The Purpose Agents, agrees that many consumers do not yet understand the large number of emissions that lie in product supply chains and therefore, the impact of their shopping habits on the climate. 
"Climate is definitely top of mind with the average consumer, as we have seen in polls ahead of and from the results of the recent election," Anna Forster said. "However, they do not yet fully understand the impact of what they buy and how it is being shipped to them on their personal climate footprint. I firmly believe this is going to change considerably in the short term. For retailers, with a new government and possible stronger regulation around reaching Net Zero on the horizon, now is definitely the time to get ahead of the curve on carbon emissions."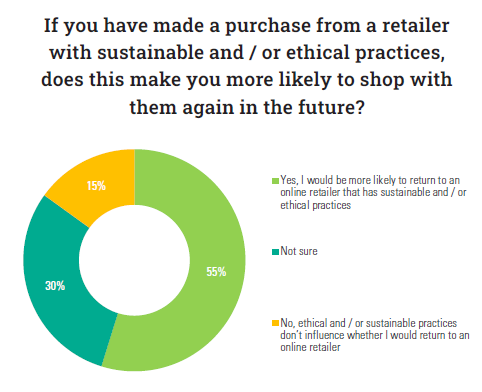 The Highlighted Retailers
Retailers have made a lot of massive moves in the industry to create a more sustainable future, but this is only the beginning. The Sustainability Spotlight aims to highlight retailers that are leading sustainability initiatives in retail. Moreover, these retailers are making a strong call to action for Australian brands to revamp their operations and rethink their business models in order to reduce their environmental impact.
"The goal of this spotlight is to inspire the retail industry to move firmly towards sustainable action by showcasing the businesses that are doing their bit for people and our planet," said Anna Forster. "We know that customers are more likely to return to retailers that are transparent about ESG policies and investing in a sustainable and ethical business model will be a long-term win for business revenue." 
Anna Forster and the Power Retail team have assessed retailers across different social and environmental responsibility categories to arrive at the top brands in this area. Such categories include human rights, reduction of environmental impact or community engagement.
Highlighted retailers include:
Biome
Flora & Fauna
World's Biggest Garage Sale
Modibodi
Go for Zero
B2C Furniture
TWOOBS
"We are seeing growing unrest amongst socially conscious and eco-friendly consumers as they demand more from retailers that are neglecting their corporate social responsibility to act on climate change and source ethical products," said Ally Feiam of the highlighted retailers. "The time for change is now if retailers want to align their business model with consumers' demands and see a financial return on their investment."
Thank you to The Purpose Agents for their hard work and dedication in crafting the Sustainability Spotlight with Power Retail. High five to these retailers for their innovative efforts to drive sustainability in their product category!
You can find the full Sustainability Spotlight report here, with the full list of highlighted retailers, retailer interviews and Power Retail data and insights on sustainable retailing.
The e-commerce landscape is changing. With a Power Retail Switched On membership, you get access to current e-commerce revenue and forecasting, traffic levels, average conversion rate, payment preferences and more!