Guided Conversion is the Future of E-Commerce – Here's Why
In the last five months, e-commerce has exploded in popularity across the country. As this popularity continues to grow, so do the new faces of e-commerce. Michael Tutek, the Founder of Preezie, broke down a few reasons why online and in-store should offer the same experiences, and how it can benefit conversion rates.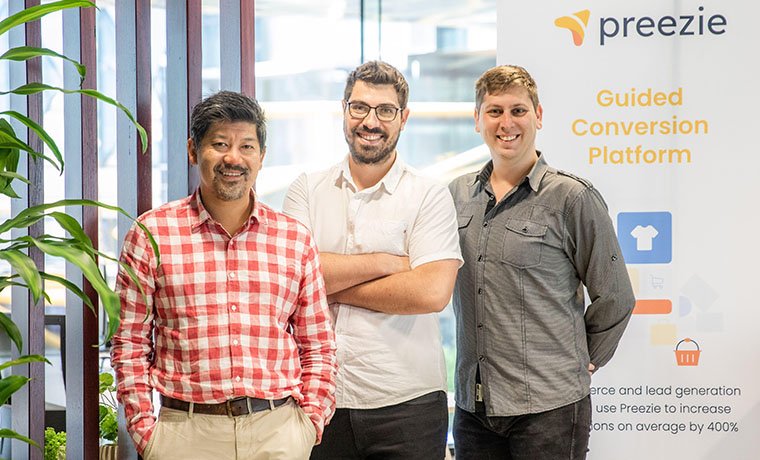 The average e-commerce conversion rate is 2.8 percent, but a few years ago, it was far lower. In 2020, e-commerce has never been more popular. Shoppers who had never used online platforms before are now relying on it as states face lockdown and further pandemic-related restrictions. As such, it's more important than ever to get the experience right to capture customer retention and higher conversion rates.
When Michael Tutek, the Founder of Preezie, was working for The Good Guys, in-store conversion rates were as high as 40 percent. Meanwhile, online conversion rates were below one percent. 
"I always loved three things," Tutek told Power Retail. "Sales, psychology and technology, and I thought 'surely we can better the online experience'."
Brick and mortar stores often have a higher conversion rate due to sales assistants and the well-rounded approach of guiding the customer to find a perfect product.
Inspired, Tutek introduced the idea of bringing the sales assistant online, helping guide customers to the right product in a way that reflects the in-store experience. That idea was Preezie. Preezie is a 'Guided conversion and product discovery platform', which aims to bridge the gap between a high in-sore conversion rate and the online experience. 
What started out as a simple Q&A with 'basic logic' quickly expanded into something much more. 
"The business started as a simple system, where we created a set of Q&A with basic logic," Tutek explained. "But now, it has expanded to a very complicated mathematical recommendation engine. We can generate things like 'exit intents', 'targeted call to actions' and Netflix style '1:1 real-time product page personalisation blurbs', which articulate why a specific product is great for a customer." 
What is a Guided Conversion? 
Simply put, guided conversion is all about bringing the in-store experience online. "When walking into a physical store for a new laptop, running shoe, dress, shaver or knife set, a sales assistant can help guide you through their range and recommend products," Tutek said. "Guided Conversion does the same thing, only online."
Why is it important to focus on guided conversions and why should retailers care? Tutek and the Preezie team understand that the future of retail is online, and the numbers support this claim. "On average, when a shopper uses our system they are four times more likely to convert than users that don't," Tutek told Power Retail. "We even have clients whose conversion rate is above 12 percent! For e-commerce, that is pretty unheard of." 
E-commerce is experiencing an uplift in popularity amid the pandemic and lockdown laws. As such, its growth was unprecedented but necessary. As with all fast-growing platforms, there are issues that need to be ironed out, as Tutek explained. 
"The biggest issue I see is product discovery and navigation, that is why I have dedicated my entire life to it," he said. "For example, did you know that research shows that up to 55 percent of users leave a site if they cannot quickly and easily find the right product for them. You may actually sell the product the customer wants, but 55 percent won't even know." 
And he's not wrong – having more than half of users leave a site because they couldn't find what they were looking for is a massive issue that is facing e-commerce professionals daily. While basic search functionality may seem like the solution, online shoppers find this less than valuable. 
"Just think of it logically, if you know exactly what you need, then a search bar or some basic filters would be fine," he explained. "However, for the 90-95 percent of users that are general shoppers, that is not enough."
From luxury travel experiences to tea dresses, the longer a consumer has to navigate through a site to find what they're looking for, the less likely they are to stay and convert. 
"Our client, Blue Bungalow, has over 900 dresses online. Some are suitable for events, others are casual, some have stretchy elastic and others have natural fibres (that you can't see in an image), some are flattering for your curves while others are loose and flowy. Navigating that range could take a long time, or it could take you 30 seconds with the right product discovery method," he said. 
The Brains Behind the Buzzwords
Over the last five years, there have been buzzwords thrown around the e-commerce space that have begun to lose their meaning. Examples of this include 'personalisation' and the 'personalised experience'. 
"Personalised experience is a huge buzz word and for a reason – it's the future," Tutek explained, "however, the issue with it to date, is that it's been very hard and expensive to implement.
"That is changing," Tutek told Power Retail. "What retailers need to consider are the tools and software out there that can create a personalised experience. These tools need to be easy to integrate and provide a true value proposition to customers." 
Preezie is one of the tools that retailers can turn to when in search of actionable and personalised experiences. "I personally believe that experiences should be one to one," Tutek said. "I say this because I believe in-store and online should be the same." 
"When you walk into a store, the sales assistant doesn't just group you into a specific segment," he continued. "They engage, ask questions, learn and process. So on this basis, we create tools that are one to one. Although this is very hard to do, it has huge advantages in conversion rate. So brands should keep an eye out on that and try to see if their tools and processes can go deeper than 'just segmentation'." 
Put Yourself in the Customer's Shoes
When thinking of a great shopping experience, it shouldn't be complicated. "Just put yourself in the customer's shoes," Tutek explained. "It's not hard – think 'How would I buy?' and 'Would I buy?'." 
When planning and executing an effective online shopping experience, there are a few core elements that are crucial for retailers. "Guided conversion of course," Tutek explained, "then ensure you have things like live chat for the small percentage of people that need a real person." 
Even simple parts of the shopping experience, such as the placement of a phone number, can play a huge role in increasing the conversion rate. "Ensure you have things like phone numbers on the top left or right of your site," he said. "Make sure that when a user comes to your site, they know within five seconds: what you do, your value proposition, that you're trustworthy and how to navigate to your products just like you would in-store." 
If you use the right tools and software, you will make the online experience just as engaging as in-store. Not only will this lead to higher conversion rates, but by cultivating a more personalised experience for your customers, you will create a connection that lasts beyond the checkout.   
Preezie offers Guided Conversion and Product Discovery Platforms for e-commerce companies that wish to take the in-store experience online. You can find out more about Preezie by clicking here. 
Power Retail is dedicated to providing critical and live e-commerce retailer benchmarking data and shopper insights for the online retail industry. Click here to find out more about Power Retail E-Commerce Intelligence or here to sign-up for the free weekly Pulse Newsletter for more essential online retail content.