Talking Point: Buy Aussie Now, It's More Important Than Ever
Australian retailers are doing it tough right now. That's where Buy Aussie Now comes in. This online marketplace is the 'Australian version of eBay or Amazon', but the profits stay local. We sat down with Mitchell Catlin, the Founder of Buy Aussie Now, to discuss the future of local retail, Australian e-commerce and how to help retailers through a time of crisis.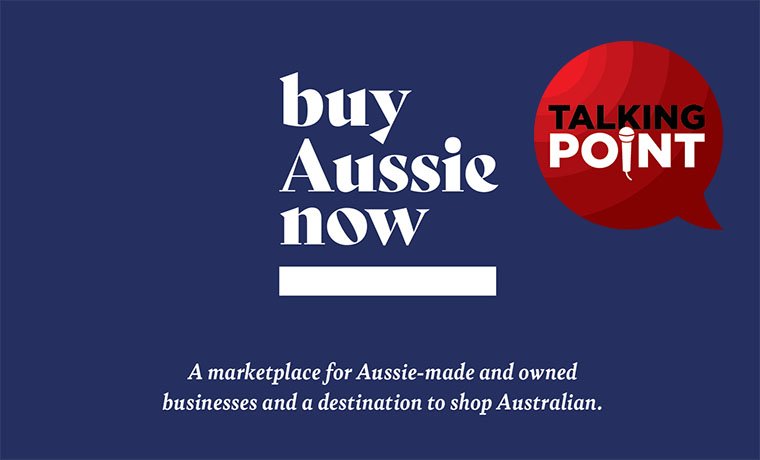 Can you please take us through the history of your online retail business? What was your inspiration for getting into the space, and how has the business evolved?
Like many Aussies, I lost so much work at my normal marketing consultancy in mid-March and simply wasn't sure when the next project would come in. I was very concerned and anxious and had never experienced that from being in high profile executive roles prior to going out on my own. It was my 80-year-old mother who simply put it to me that buying Australian would keep the money here. So that weekend, I set up an Instagram page @buyaussienow purely to highlight brands and products, and to keep me busy and my mental health in check. After a week, I realised I was onto something as we simply couldn't keep up with the hundreds of messages we were getting. Four months later we announced the store. So many savvy investors saw the possibilities of this irreversible change in the way Aussies will shop.
How would you describe your e-commerce business model? What key features differentiate your offering?
We are Australia's first marketplace for Aussie owned businesses to showcase their Aussie made products. In effect, we are an Australian version of eBay or Amazon, but the profits stay here! We already have close to 3,500 businesses pre-registered and close to 12,000 shoppers.
Retail has certainly changed in these uncertain times. How has your company dealt with the crisis, and have you learned anything along the way?
BUY AUSSIE NOW was created for a few reasons – sentiment has irreversibly changed and Aussies want to shop Australian – but there wasn't one place where people could go to shop. The BUY AUSSIE NOW marketplace is just that, across a whole range of products across eight categories. We showcase Australian hard work, creativity and ingenuity. And while the growth of online shopping has been significant in recent years, what has become more apparent during COVID is that more and more people are choosing this as their preferred way to purchase.
Do you think that the current online boom will continue after the pandemic has passed? Why/ why not?
The way Aussies shop has changed forever. The exponential growth has been off the charts in recent years, but no one was expecting something like COVID to hit us. So what this pandemic has done is created an even bigger market of Aussies, many who have used online shopping on a very limited basis, to now purchase everything from essential supermarkets items and household goods to gifts. 
What do you believe are the biggest challenges for Australian e-commerce businesses right now, and what could be done to address these? What are the biggest opportunities?
Now is the time for e-commerce businesses to shine. There are some international brands that have deep pockets trying to own the market, but we all need to do our best to support Aussie e-commerce businesses, so the profits and jobs stay here. It might mean consumers need to look around a bit more, depending on the category, but it is important for our future to take on the big multi-nationals.
In recent months, Australian retailers have become more popular as borders close and supply chains become strained. Have you noticed any changes in your customer behaviour since the lockdown began? 
What is very clear by the huge engagement we have received on our Instagram page, and now through business and shopper pre-registration for our store, is that Australian's are for the first time in many generations focussed on supporting their own. It often takes a crisis like we are now facing, and one that will continue for some time to come, to force change. But the goodwill and sentiment is there, and what BUY AUSSIE NOW does is gives Australian's confidence that they can find whatever they need from Aussie owned brands in a one-stop destination.
Australian-made products have become more popular during the time of lockdown. Do you think this is a mentality that will continue after the pandemic has passed? 
I think the goodwill to shop Australian is always there – people want to support small businesses and local jobs but the challenge has been that Aussies have not had one location to go to. BUY AUSSIE NOW, if you like, is the Australian version of eBay or Amazon, but the profits stay here.
Are there any exciting development coming our way from your brand? 
We are thrilled that the Federal Treasurer Josh Frydenberg will open our business in between six to eight weeks when the store is fully operational. Businesses will start uploading their products in coming weeks and we are holding weekly webinars with businesses to help them with everything. 'Australian Life' is our new digital magazine for shoppers, and we have started recently with articles and blog content until we are fully live.

Introducing Talking Point, an exciting new series from Power Retail. Each month, we will cover a specific topic relevant to e-commerce. This month, we are showcasing and celebrating #Australian retailers. Watch out for this logo every month as we dive into new topics and investigate what it means to be an online retailer in Australia.
Power Retail is dedicated to providing critical and live e-commerce retailer benchmarking data and shopper insights for the online retail industry. Click here to find out more about Power Retail E-Commerce Intelligence or here to sign-up for the free weekly Pulse Newsletter for more essential online retail content.