Talking Point: How QBD Books Online Sales Doubled in a Year
In 2020, Australians have spent more time inside than ever. With an increase in online spending during the pandemic, Aussies are embracing e-commerce like never before. We sat down with Nick Croydon, the CEO of QBD Books to discuss changing consumer habits, the online boom and overcoming challenges in a pandemic.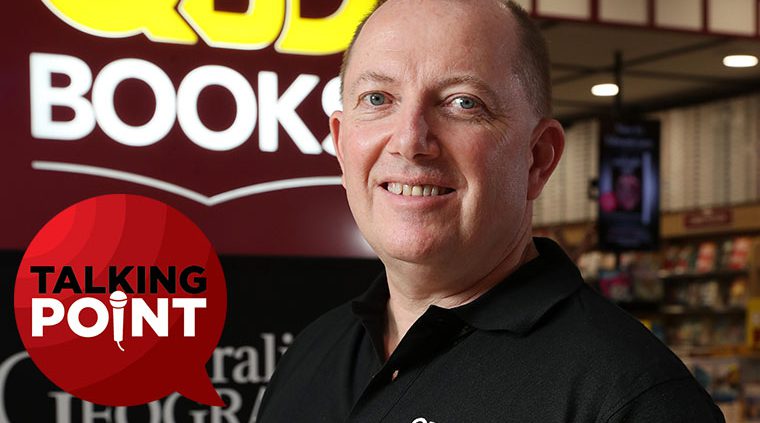 Can you please take us through the history of your online retail business? What was your inspiration for getting into the space, and how has the business evolved?
Founded in the late 1800s, QBD Books is Australia's largest Australian owned and operated book retailer. Since 2016, the company has expanded from a network of 56 to 77 stores located in major shopping centres in every state across the country.
QBD Books' online sales have grown five-fold from 2016; in fact, they've doubled since this time last year. In response to this, we're building a new online fulfilment centre at Richlands, which will enable us to cope with a further 100 percent increase in online sales. QBD Books is also looking at ways to automate that for delivery times.
How would you describe your e-commerce business model? What key features differentiate your offering?
It's a crowded space, but we've increased our focus behind online sales and as a result, we've seen our turnover increase well beyond where the business was in 2016.
One-third of our online orders travel from store to door, which has enabled us to maintain very quick delivery times. By using local couriers to deliver products from stores to customers, 95 percent of orders are delivered within 24-48 hours. This rapid delivery model means we're very competitive on delivery scales.
QBD Books also offers unique products – approximately 40 percent of products are unique to our brand. For example, jigsaw puzzles we've created, books we've published ourselves, and exclusive reprints at affordable prices.
In April, book sales went through the roof. We sold more jigsaw puzzles in April than Christmas. Being owner-operated gave us the flexibility to quadruple our online workforce within a week to meet demand. We also saw store traffic on the rise and we are able to work with our stores directly to meet the rapidly changing environment and move products quickly while maintaining quality control and compliance. In the worst-case scenario, we had to let customers know we were seven to ten days behind, whereas our competitors were eight weeks behind.
Retail has certainly changed in these uncertain times. How has your company dealt with the crisis, and have you learned anything along the way?
The QBD Books team put a plan together very quickly. I returned from London in the middle of March and went into quarantine in Australia. While I was there I was able to focus the team on responding early and quickly to the changes.
From very early on, QBD Books put hygiene measures in place including hand sanitizers, masks, and screens. Staff members formed a committee which meant we were in constant communication and provided regular updates. Our national sales team was glued to the television, coming up with policies in response to the news. What we saw was that the speed of having a plan which was precise and clear, as well as providing daily information to team members was key to our successful response.
Do you think that the current online boom will continue after the pandemic has passed? Why/ why not?
I think it will tailback, we've seen that already from April peak to where we are now. We've also seen how what's happening in Victoria at the moment has made sales jump up again. They'll come back down eventually, but my prediction is that it won't go down to pre-COVID activity.
What do you believe are the biggest challenges for Australian e-commerce businesses right now, and what could be done to address these? What are the biggest opportunities?
The main one would be the cost of delivery. If you're supplying products of higher value, the delivery charge is not so expensive. But if you're looking at a $10 book, you've got some challenges. We're constantly looking at ways to avoid that – store to door is one of those. Local courier costs are much cheaper than working with postage, particularly if low-ticket items are the core products. To combat that, we encourage multiple purchases for online sales to get the basket size up through promoting multi-buys etc.
Another challenge is the number of products – there are millions of titles in existence and unfortunately, we can't possibly stock them all. A lot of the time customers don't understand why you wouldn't have a particular item in stock. Having mountains of SKUs is a challenge – in order to deliver to customer expectations, you need to stock products or have quick access to suppliers.
In recent months, Australian retailers have become more popular as borders close and supply chains become strained. Have you noticed any changes in your customer behaviour since the lockdown began?
We've definitely seen an increase in customers shopping online. Also, we've seen that customers who shop in-store have been much more focused. For us, this means lower footfall, but with similar sales, equating to higher conversion rates.
Popular products during the pandemic continue to be educational and recreational, with bestsellers being puzzles, games and telescopes.
Are there any exciting developments coming our way from your brand?
The next six months will feature a series of exciting updates for QBD Books stores across the country. We're launching our exciting new Australian Geographic kiosks across selected stores, refurbishing multiple stores and expanding the capacity of our online fulfilment centre to cater for increased online sales.
QBD Books began rolling out its new retail partnership with Australian Geographic with the integration of the online store successfully launching in June. By mid-August, QBD Books stores across the country will include a core range of Australian Geographic products, featuring the very best from the iconic Australian brand whose bestsellers over the past month are educational and recreational products including puzzles, games, and telescopes. It will excite our existing customers, as well as new ones – people will come in for a science kit and walk away with a book as well.
In July this year, QBD Books set out on a mission to celebrate the significance of storytelling with the release of our second series of My Mini QBD Books collectibles. The new collection features collectable miniature titles from celebrated Australian authors Ahn Do, Jessica Townsend, Jacqueline Harvey, Rachel Renée Russell, Ursula Dubosarsky, Mick Elliot, Yvette Poshoglian, Matt Stanton, Andy Lee, P. Crumble, Ted Prior and Nick Croydon (myself). Both series of My Mini QBD Books contain books suitable for ages three to twelve years old, featuring a variety of picture books and children's fiction.
Is there anything you'd like to add?
Another trend we're noticing throughout the pandemic is an increase in products within the mindfulness category. In addition, fiction novels are selling well because people want to escape. A lot of people have rediscovered the joy of reading, or those that didn't read much
before, have now tried it and enjoy it. Whether you're five or 80, relaxing with a book in a quiet and comfortable environment is one of the best things you can do for your mind.
We're also seeing a return to family values and quality time. We're hearing plenty of stories about parents having more time to spend reading to their children, especially since they're not spending hours commuting.
Introducing Talking Point, an exciting new series from Power Retail. Each month, we will cover a specific topic relevant to e-commerce. This month, we are showcasing and celebrating #Australian retailers. Watch out for this logo every month as we dive into new topics and investigate what it means to be an online retailer in Australia.
Power Retail is dedicated to providing critical and live e-commerce retailer benchmarking data and shopper insights for the online retail industry. Click here to find out more about Power Retail E-Commerce Intelligence or here to sign-up for the free weekly Pulse Newsletter for more essential online retail content.