The Future of Female Leadership with Erica Berchtold, CEO of THE ICONIC
Erica Berchtold is one of the most influential leaders in the retail landscape. As CEO of THE ICONIC, she has faced challenges and worked towards creating one of the most successful online marketplaces in the country. In honour of International Women's Day, we asked her what it means to be a female leader in 2022, the challenges she has overcome, and what the future of female leadership looks like to her.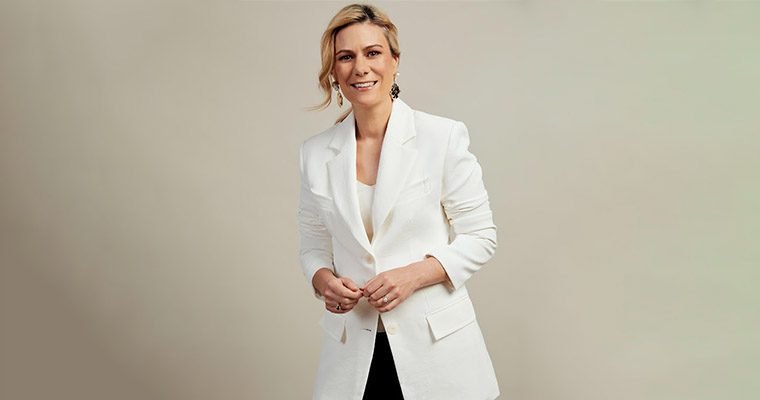 Why is International Women's Day important to you?
For me, International Women's Day is a chance to stop and reflect on where I am at, what the industry was like when I joined and what I want it to be like in the future. It's a chance for me to consciously think about what it's like today for our future female leaders, and how I can support them on their journey. 
International Women's Day has been in operation for more than 100 years and while we've certainly come a long way, we have many more steps to take before reaching equality. What do you hope this year's IWD will achieve? 
With #BreakingTheBias as its theme, I hope this year's International Women's Day encourages us all to reflect and consider whether we are demonstrating bias at work and in life. 
It's not easy to admit to yourself that you might be harbouring an unconscious bias of some kind, but it's important that we do. If you realise you are, don't give yourself a hard time about it – give yourself a hard time if you do nothing about it. Society is basically set up around men succeeding and being in leadership positions, so even as a woman you can easily have an unconscious bias towards other women and not even realise it. 
My hope is that continued education, training and mentorship will be key drivers to understanding and breaking bias of all kinds (gender identity, age, race, religion, sexual preference, disability) because ultimately, real diversity leads to a stronger customer relationship and a better business.
In your expansive career, what have been some of the biggest challenges you've faced, and how did you overcome them? 
One of the biggest challenges I've faced has also been my proudest career achievement. Steering THE ICONIC through the turbulence of the past two years has shown me the importance of agility and customer-centricity. It's also taught me that if you focus on your people, and keeping them safe, informed and supported above all else, you can achieve anything. 
When the pandemic first hit in early 2020, we knew it would be disruptive for our team, customers and partners if we didn't mobilise fast. To stay ahead of the curve, we implemented initiatives and innovations aimed at strengthening our offering as the pandemic changed customer shopping habits and we needed to evolve with them. 
We responded by bolstering our assortment across in-demand categories including loungewear, sport and activewear, launching new categories, including Beauty, Wellness and Home, and expanding our Kids and Toys offerings. We expanded our platform offering to increase the ways in which a brand can partner with us. We also added more delivery options in response to customer needs -pioneering a first-to-market same-day Saturday twilight service for our Sydney metro customers, during extended lockdowns and periods of heightened demand. 
Throughout this period, we've also remained committed to our sustainability, diversity and inclusivity targets, launching an Adaptive Edit – a tailored shopping edit for people living with disabilities and other access needs – and more recently, a first-of-its-kind partnership with Australian re-commerce platform AirRobe.
I'm proud of everything our incredible team achieved during this period of intense disruption. Throughout this time, employee engagement increased to record highs and our Net Promoter Score also reached record highs, which is a huge (and proud) achievement.
It's others that can inspire us the most when it comes to growth. Are there any women you have looked to for inspiration in your career? 
There are many women I've learnt a lot from throughout my career – some actually taught me who or what I didn't want to be. And others gave me great inspiration and played a big role in my success. Katie Page at Harvey Norman for example was a great source of inspiration to me when I worked for her 20 years ago, and she remains a source of inspiration to me today. The Chair of GFG (parent company of THE ICONIC) Cynthia Gordon is also a source of inspiration. And Lesley Symons has been my mentor / executive coach for 15 years and she has hands down been the most invaluable source of strength and support for me. 
What do you think are the most important traits of strong female leaders?
The most important traits of strong female leaders are the same as any leader. Lead with integrity and lead by example. Clearly articulate your company vision. Most importantly, lead with passion and heart and put the interests of your people – employees. partners, and customers – first. 
What is the best advice you've received when it comes to your career?
I've always asked myself the question 'why not?' when it comes to my career. Men are good at this – they say yes first and ask questions later, so I've tried to ensure I don't ask 'why me?' but 'why not me?' when faced with interesting career opportunities.
What advice would you give other women who want to enter the business world or start something new?
I recommend finding a mentor. I've worked closely with an organisation called Mentor Walks for a number of years and THE ICONIC have just become a Conversation Series partner. There are a lot of people that genuinely want to help, you just need to ask. And Mentor Walks facilitates this really well.
Ageism is a huge issue with women in business. How can leaders empower women of all ages to embrace their talents and start a new journey in their careers?
There's an onus on all of us to tackle ageism in business. As leaders, we need to make it easy for women (and men for that matter) of all ages to continue learning, upskilling and in some cases, retraining – particularly in areas like STEM, where women are underrepresented. 
I'm increasingly irritated that when a man reaches 50, he seems to be seen as "in his prime". And when a woman reaches 50, it seems she's past her use-by date. I can see this as a future cross for me to bear so stay tuned!
How can other female leaders in the retail industry inspire and empower women?
When you find yourself in a leadership position, be the change you want to see. Advocate for policies that support women, invest in training and create pathways for women to progress within your business. Put yourself out there and become a mentor – for men and women. Leave the industry better than you found it.
What does the future of female leadership look like to you?
My hope is that, in the future, we will no longer be talking about gender, but instead focus on the qualities that make a leader right for the job outside of how they identify. I hope that gender equality becomes so normalised it's no longer a conversation topic in leadership and beyond.
The e-commerce landscape is changing. With a Power Retail Switched On membership, you get access to current e-commerce revenue and forecasting, traffic levels, average conversion rate, payment preferences and more!