The New Age of Social Shopping with Depop
The Next Generation shopper is a complicated one. They care about the environment, so sustainability is a priority when they go shopping. However, they want to stay on top of the latest trends and keep their look fresh, unique and authentic. So, how do they do it? Enter: Depop.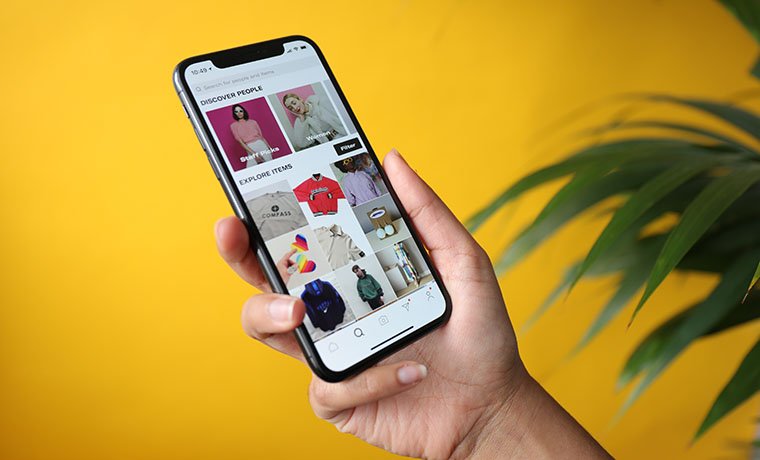 Gone are the days of Millennials as the next-gen shopper. Those born after the year 2000, AKA Gen Z, are the new consumer that retailers should be paying attention to. Much like Millennials, their shopping behaviour is difficult to understand, due largely to undocumented data. But one thing for sure is, they are looking past fast fashion and turning towards second hand and upcycled couture.
Depop is an online C2C marketplace, where users can buy and sell goods from around the world. From sneakers to luxury goods and vintage pieces, it is ultimately as an online op-shop and acts as the ultimate treasure trove for savvy online shoppers.
The app is presented just like a social media platform, allowing users to 'like' products, make an offer and enquire using the comment functionality. Users can follow others, so they're updated with the latest items in their newsfeeds and, enable push notifications to keep track of their purchases and latest additions.
Although many NextGen shoppers know about Depop, what they may not know is how it started. Akin to the likes of Facebook and Instagram, Depop began as an idea where readers of PIG Magazine could buy items featured in the publication via their smartphones. After realising that Depop needed a selling function to capture growth, the co-founder, Simon Beckerman, re-envisioned the app to the global marketplace it is today.
Depop currently has more than 18 million users and houses tens of millions of clothes, accessories, homewares and everything in between in its database. "Depop was initially created as a place for young and emerging creatives to sell interesting and exciting things," Maria Raga, the CEO of Depop, tells us. "It has always been accessible, democratic and inclusive. Supporting our community has been integral to our business from the start."
A recent study from A.T Kearney shows that more than half of Gen Z shoppers actively seek to find sustainably sourced clothing. Furthermore, 22 percent of this demographic will abandon a transaction if they've faced a bad experience while shopping online. Seeking individuality, those shoppers are also keen to find an item that helps them stand out. With so much visibility online, it's more important to them than ever to have a sense of individuality and an authentic image.
Depop aims to support these consumer behaviour changes – unlike fast fashion, Depop offers second hand, vintage and ethically sourced goods from across the globe. Fast fashion is an industry that has thrived for the last 20 years. From FashionNova to Missguided, online fast-fashion retailers have become the forefront of the accessible style and often derive inspiration from luxury designers such as Gucci, Fendi and Louis Vuitton.
While these retailers continue to thrive, there is a noted lack of individuality found within its catalogues – what is seen on the streets of Fashion Week is ultimately regurgitated onto the screens of many fast fashion websites. Furthermore, the increasing demand for fast fashion puts a heavy strain on the environment. A study from UNECE reveals that the fashion industry is the second-largest consumer of water worldwide, after oil, and since 2000, the fashion and textile industry has roughly doubled in size. Due to this increasing demand, the fashion industry isn't going anywhere any time soon. However, the next-generation shopper is hyper-aware of the ramifications of these brands and are taking active steps to counterbalance the industry.
"We know that the next generation want an experience that the fashion industry is struggling to provide. They want authenticity and to set their own trends. They're influenced by real people. They want choice and individuality, the ability to buy on-demand and sell on with ease. At the same time, they want to reduce waste. Depop is set up to meet these changing demands. We exist to empower the next generation to transform fashion," Raga explains.
"By empowering our community, we're helping enable a more accessible, diverse and creative fashion industry. Our Depop community has grown over the years to include an amazing, diverse set of creative people who are finding audiences and building their brands and businesses. We want to use our scale and influence to give people access to new opportunities: to help them build businesses, and to help their individual brands gain visibility," Raga continues.
Depop is aware that Gen Z shoppers have their smartphones attached to their hips, but US studies have shown that 73 percent of the next generation prefer to find their next favourite product in-store. With this in mind, Depop opened a pop-up store in Selfridges for three months. "[The pop-up store was an opportunity] to showcase the community and their creativity in a very visible, public way," Raga explains. "Everyone who sees projects like those should leave knowing the names of individual sellers – and knowing that they can follow them to discover more of their creativity on the Depop app."
Since its inception in 2011, Depop has transformed from a social media network into an underground culture-loving fashion community, made to inspire and encourage younger shoppers to splurge on pre-loved and unique items.
This is an excerpt from the 2020 E-Commerce Leaders' Playbook. If you're interested in reading more, find out about a Power Retail membership here.
Like this story? Sign-up for the free Pulse Weekly Newsletter for more essential online retail content.