What is Poshmark and Is It the Future of Online Fashion Retail?
Have you heard of 're-commerce'? It's the booming trend of re-selling items online that is starting to shake up the fashion industry. Online marketplace, Poshmark, is planning to file its IPO this week – here's how it could change the face of fashion online.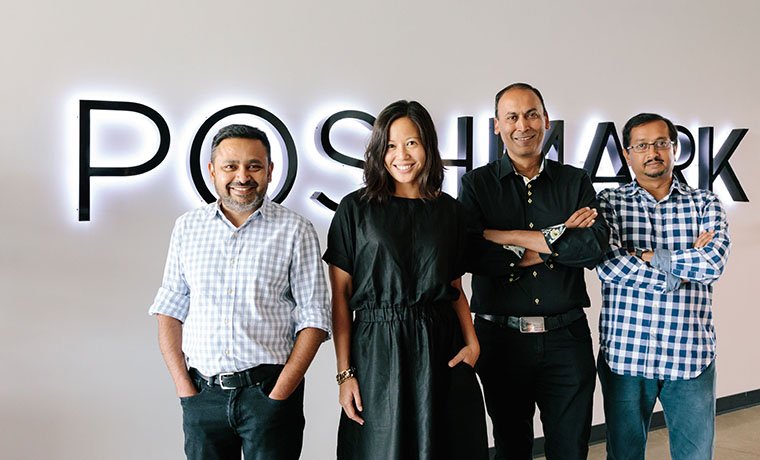 Last year was a rough one for the fashion industry. With fewer people going out to show off their latest wardrobe choices and the pandemic crushing any chance of in-store window shopping, it has been tough for many retailers to continue.
However, it appears that the new year may shed some new light, with many fashion retailers taking their seats at the stock exchange table. Will 2021 be the year for fashion retailers to reclaim their space in the industry?
Founded by Manish Chandra, Poshmark is an online marketplace that lets users buy and sell luxury fashion, home decor and beauty products worldwide. In 2019, Poshmark doubled its revenue from USD 1 billion to USD 2 billion in 12 months.
Established in 2011, it has accumulated more than 70 million registered users in the United States and Canada alone. Furthermore, it has more than 200 million items for sale in the US and Canada. According to its prospectus, there is a sale every second in the United States, with users spending approximately 27 minutes on the app a day in 2019.
Before COVID, the e-commerce industry was growing slowly and steadily. Some big players dominated the online fashion space, with some of the biggest names, including Net-A-Porter, Farfetch and MatchesFashion. All quite similar in their offerings, these platforms provided customers with luxury goods, secondhand items and fast shipping worldwide.
When the WHO announced the pandemic in 2020, the fashion industry was one of the hardest-hit. However, for online marketplaces like Poshmark and TheRealReal, customers could generate an income by selling their products online, and window shop online to avoid boredom as they remained inside for months.
For the first time in its almost ten-year history, Poshmark became profitable and is now expected to push for an IPO, with a USD 3 billion valuation. Its shares are currently selling for USD 42 each, which will raise approximately $277 million.
"We are a social marketplace that combines the human connection of a physical shopping experience with the scale, reach, ease and selection benefits of e-commerce," the company explained in its prospectus.
The pandemic has led to a serious secondhand luxury boom, also known as 're-commerce'. The combination of the pandemic-fuelled closures of physical stores, worries of environmental impact and a growing interest in online shopping, has garnered interest for shoppers in secondhand luxury goods at an unprecedented level.
TheRealReal went public in 2019 and reported a serious skyrocket in sales as the world faced lockdown. The marketplace reported a 14 percent increase of active buyers, with the site hosting more than 600,000 shoppers in Q3, and an AOV of USD 446, marking a two percent increase YoY.
"Improving trends in New York City and Los Angeles, momentum with virtual appointments and continued strength in the The RealReal B2B vendor program improved our ability to source supply in Q3 and contributed to improving quarter over quarter GMV trends," explained Julie Wainwright, the CEO of TheRealReal. "We were pleased with our GMV performance in Q3 despite the difficult Y/Y comparison and continued COVID headwinds."
Retailers such as TheRealReal, Vestiaire Collective and Poshmark have all become leaders in the online marketplace share.
Unlike many other competitors, however, Poshmark runs on a peer-to-peer business model, meaning it does not have to carry inventory – TheRealReal, on the other hand, procure its stock from sellers and takes a percentage of the sale when the item is sold.
Poshmark has a flat fee of 20 percent of any sale over USD 15 or a $2.99 flat rate for items below that price point. This fee model may be a highlight for investors in the future and helps the business become more profitable as it doesn't rely on inventory.
Online luxury retailer Mytheresa is also planning its IPO, after more than 30 years in the retail sector. The business reported $500 million sales in the FY ending June 30, up 20 percent YoY. With an average order value of USD 674, the business profited from its early entry into the e-commerce space in 2006. It has plans to raise approximately $150 million, which could set its valuation well over $1 billion.
The fashion industry may have been struggling in the last few years, with an accelerated decline due to the pandemic. However, with the birth of re-commerce and the resurgence of pre-loved vintage luxury goods, retailers such as Poshmark may mark the beginning of a new dawn for the fashion industry online.
Like this story? Click here to find out more about Power Retail E-Commerce Intelligence or here to sign-up for the free weekly Pulse Newsletter for more essential online retail content.