What's Going On With Instant Grocery Start-Ups?
On Friday morning, shoppers received an email from the CEO of Milkrun apologising for massive delays it has experienced recently. This is another rapid grocery platform that has shared issues recently. So, what's going on?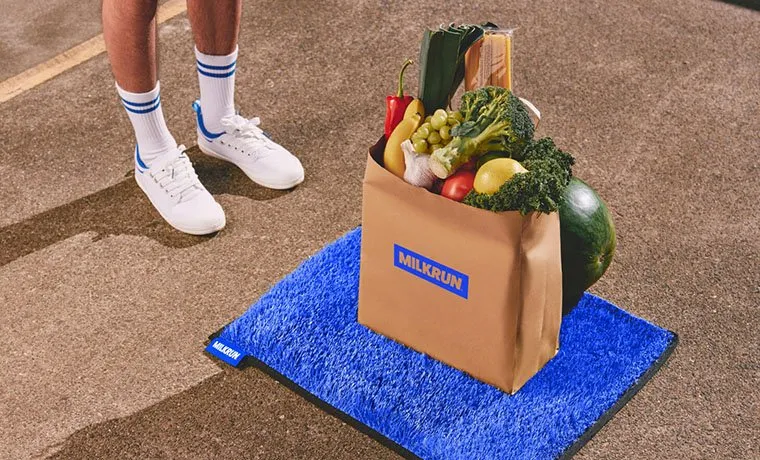 Milkrun is an online grocery service, founded by Dany Milham, who also founded online mattress and furniture retailer, Koala.
Milkrun promises to deliver supermarket items in ten minutes or less. The deliveries are done using electric bikes, and surprisingly, every time I've ordered using Milkrun, they have delivered in ten minutes or less. Astounding.
But there have been some delays in the last few weeks, and its CEO is apologising.
This email comes just days after instant grocery startup, Voly, announced it would be cutting its 15-minute delivery service, shuttering some distribution centres in Sydney and dismissing staff as the retail landscape returns to 'normal'.
Moreover, another instant grocer business, Send, collapsed last month. The business cited global issues such as the war in Ukraine, and harshing economies that made it hard to raise further funds for the business. Send secured $3.1 million series funding in August 2021 and had a 46,000 active customer base.
"The significant salary and wages expense incurred is associated with the company's business model of groceries delivered in 10 minutes as the company was required to employ a large number of staff in order to meet its business model," wrote the administrator's report regarding Send's collapse. "Accordingly, despite attempts by management to reduce the losses incurred, it is clear that without external funding the company's business model was not sustainable."
But it's not all doom and gloom for Milkrun. In fact, Milkrun's CEO wants its customers to know that despite these delays, Milkrun will be implementing a series of initiatives to prevent the business from falling into the same pattern as its competition.
Milham shared an email to its customers in the early hours of Friday morning, starting off by taking its customers and sharing the issues that are facing the Milkrun team.
"[T]here have been a number of factors which have, at times, led to an unacceptable decline in our delivery experience in busy periods," the email read. "These included ongoing COVID cases affecting the availability of riders and hub staff, record rainfall in Sydney, and the challenges involved with scaling a fully employed workforce faster than anyone has ever tried before."
"Just so you know it's not all bad, in just ten months, we've changed how Aussies buy groceries and created a mindblowing experience that no one thought was possible. Not only that, we've created over a thousand local jobs and built a thriving community of fully employed riders and workers that get treated the way they deserve to be treated," it continued.
The email continued to list the improvements that Milkrun plans to enact to ensure the delays don't continue, including:
"Opening new hub locations in areas we serve today to elevate the customer experience and reduce the delivery time and distance
Increasing the hiring of riders and hub staff to keep up with demand
Working with suppliers to continue to have the freshest produce available in the market
Ensuring we keep our prices and impact on the environment as low as possible"
Milkrun received a $75 million Series A round of funding in January 2022, backed by Tiger Global Management. Currently, the service is available in areas of Sydney and Melbourne.
As other speedy delivery services lose balance, it will be interesting to see how Milkrun shapes up. Competition is already ramping up, with the big supermarket players getting in on the action.
Woolworths has just announced it would be introducing a rapid delivery service for an extra $5 via the Metro60 app. This service will be available in 11 suburbs of eastern Sydney, including Bondi and Rose Bay. The first three deliveries are free for users, who will then be charged $5 for the delivery fee, with a minimum spend of $20.
Using Uber Eats carriers, taking 4000 products from Metro stores to its customers in under an hour. It's not the ten minutes that Milkrun offers, but this is likely to change if the initiative is popular amongst consumers.
"Our busy customers are already familiar with the convenience a Woolworths Metro provides when
they're on the go, and we see Metro60 as an opportunity to offer a new level of ultra-convenience and help customers save even more time," said Von Ingram, the Chief Transformation Officer at Woolworths.
The e-commerce landscape is changing. With a Power Retail Switched On membership, you get access to current e-commerce revenue and forecasting, traffic levels, average conversion rate, payment preferences and more!