Facebook Shops: The Good, the Bad and the Future of In-App Shopping
With the launch of Facebook Shops, the future of shopping may just change forever. Will this alter the way retailers embrace mobile commerce?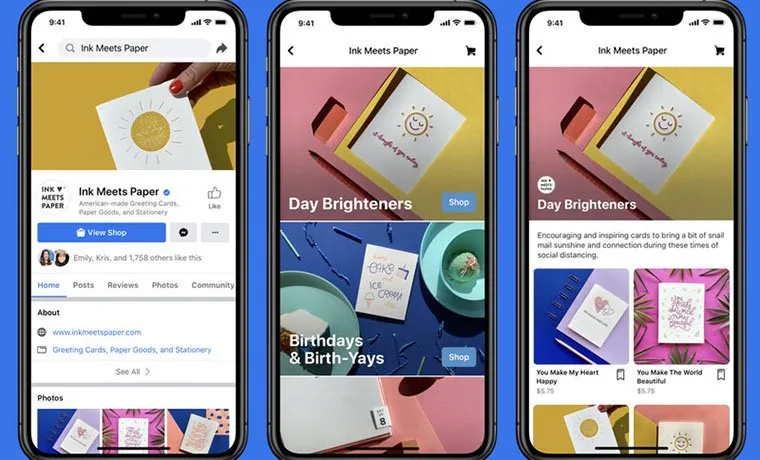 In conjunction with its subsidiary apps including Instagram, Facebook now consumers users to make an order for a product within the app itself.
"If you can't physically open your store or restaurant, you can still take orders online and ship them to people," said Mark Zuckerberg, the Co-Founder and CEO of Facebook. He added that Facebook is 'seeing a lot of small businesses that never had online businesses get online for the first time'.
So, what are the benefits of this new feature? Facebook Shops allows users to directly contact a retailer using Facebook Messenger, WhatsApp, and Instagram Direct Message to ask questions and track orders.
The Upside
The platform is free and aims to help boost growth for small and independent retailers.
"Businesses can choose the products they want to feature from their catalogue and then customize the look and feel of their shop with a cover image and accent colours that showcase their brand. This means any seller, no matter their size or budget, can bring their business online and connect with customers wherever and whenever it's convenient for them," Facebook said in a statement.
Facebook has always tried to push in-app purchases, with the launch of its Facebook Marketplace in October 2016. Moreover, the social media network is also making a push for its cryptocurrency, Libra.
For retailers, the process of setting up Shops is simple. Businesses upload their products, customise the shop with a cover image and accent colours. Consumers can then access the store through Instagram or Facebook, save and purchase items without having to leave the app.
"We're seeing a lot of small businesses that never had online presences get online for the first time, and we're seeing small businesses that had online presences now make them their primary way of doing business," Zuckerberg said in a live stream.
"For lots of small businesses during this period, this is the difference between staying afloat and going under."
While this is a great initiative for retailers, it's aimed mostly for smaller businesses that don't have an independent e-commerce platform.
However, Facebook said in a statement that it will work closely with Shopify, WooCommerce, ChannelAdvisor, BigCommerce, eCommerce, Cafe24 and other major platforms for easier integration.
The Downside?
Although the platform is free, it doesn't mean that it will be the only tool needed for a sustainable business. Although this is a great way to get your products onto the platform, there isn't the biggest chance that consumers will purchase via the app itself.
Facebook Shops may be free to use, but it's likely that retailers will still have to pay for advertising. "Our business model here is ads," Zuckerberg explained. "Rather than charge businesses for Shops, we know that Shops are valuable for businesses. They're going to in general bid more for ads and we'll eventually make money that way."
Of course, as with all social media, there's the opportunity for organic growth, but advertising agencies around the world have voiced their concerns with organic growth on Instagram, stating that paid ads are taking the forefront of all other content.
"My feeling is they are completely culling organic reach and pushing their ads," said Alex Micu, a Marketer at Hue and Cry Agency.
There have been reports of dips in engagement, changes in organic algorithms and the instances of shadow-banning. Shadowbanning is a ban that essentially hides all hashtags the user shares, meaning only followers can see the content. This only happens if a user has broken the rules of the platform, so it's not a major issue for most users.
"It seems that the Instagram algorithm is going the same way the Facebook page algorithm did in 2014. The golden age for engagement is over and they'll be ramping up the monetisation from now on," said Ste Davies, a Consultant at Comms.
The Future of In-App Shopping
As e-commerce continues to boom around the world, the likelihood of m-commerce's growth is just as probable. With the launch of Facebook Shops, Facebook will also plan the rollout of loyalty programs, and a shopping feature tagged under videos – this will allow users to purchase while watching.
Power Retail is dedicated to providing critical and live e-commerce retailer benchmarking data and shopper insights for the online retail industry. Click here to find out more about Power Retail E-Commerce Intelligence or here to sign-up for the free weekly Pulse Newsletter for more essential online retail content.