Amazon Introduces Electric Delivery Vans Across Europe
Amazon's next step in its sustainability pledge is underway with the introduction of nearly 2,000 electric delivery vans unveiled across Europe.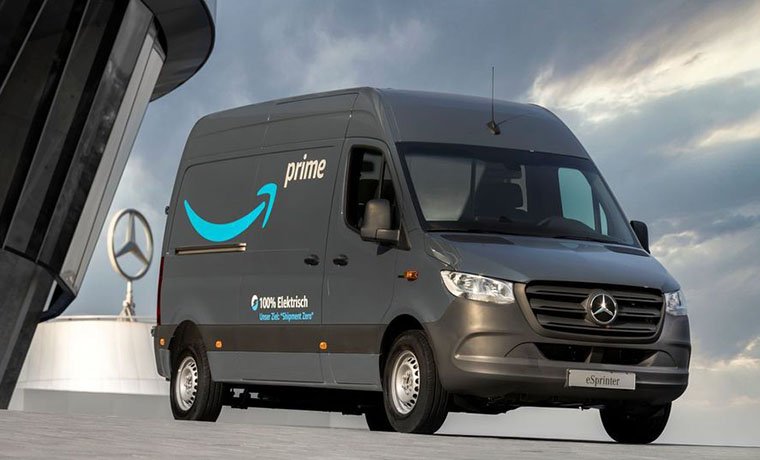 These 1,800 Mercedes vans are being added to the fleet of last-mile transportation vehicles, with the full fleet incorporated by the end of 2020.
In 2019, Amazon invested USD$700 million in the US-based electric vehicle startup, Rivian, with the promise to introduce 100,000 trucks for the United States' delivery service. While this has not happened yet, the tech giant aims to have 10,000 in its fleet by 2021. By 2030, Amazon will add the remaining to reach 100,000 electric vehicles.
"We want Amazon to commit to zero emissions by 2030 and pilot electric vehicles first in communities most impacted by pollution. We should be leaders reaching zero first, not sliding in at the last moment," read a Tweet from the Amazon Employees for Climate Justice account in September 2019.
Amazon established The Climate Change Pledge, 'a commitment to be net-zero carbon across our business by 2040, 10 years ahead of the Paris Agreement'. Furthermore, the e-commerce giant has invested $2 billion towards this goal and has made a commitment to run its operations with 100 percent renewable energy by 2025.
"The Climate Pledge Fund will look to invest in the visionary entrepreneurs and innovators who are building products and services to help companies reduce their carbon impact and operate more sustainable," said CEO, Jeff Bezos. "Companies from around the world of all sizes and stages will be considered, from pre-product startups to well-established enterprises. Each prospective investment will be judged on its potential to accelerate the path to zero carbon and help protect the planet for future generation."
In June 2020, Jeff Bezos unveiled the Climate Pledge Arena, a carbon-neutral arena that's powered by 100 percent renewable energy.
"We've secured naming rights to the historic arena previously known as KeyArena. Instead of naming it after Amazon, we're calling it Climate Pledge Arena as a regular reminder of the importance of fighting climate change," said Bezos in a statement. "We look forward to working together with Oak View Group, a new Climate Pledge signatory, and NHL Seattle to inspire global climate action."
Like this story? Click here to find out more about Power Retail E-Commerce Intelligence or here to sign-up for the free weekly Pulse Newsletter for more essential online retail content.