Amazon Goes Green with New Seattle Arena
Amazon is taking its pledge for climate change to new levels with its latest purchases, the KeyArena in Seattle.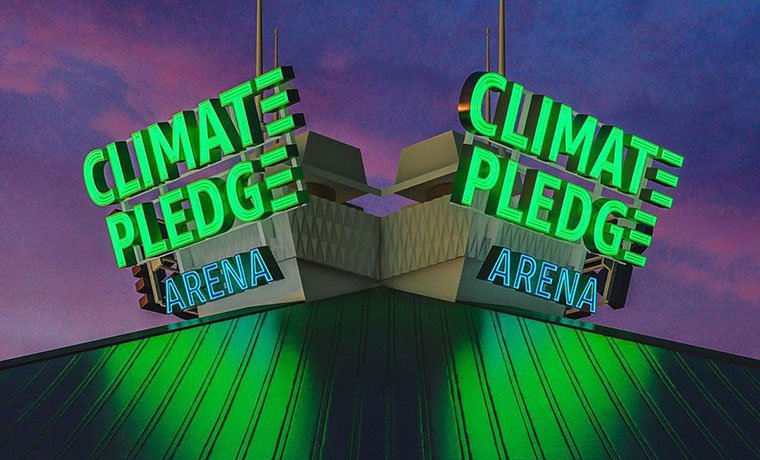 CEO and Founder of Amazon, Jeff Bezos, acquired the naming rights to the arena and has pledged to name it the Climate Pledge Arena.
Last year, the global tech company announced its Climate Pledge initiative, with promises to become net carbon neutral by 2040.
It's set to be the first net carbon-neutral arena in the world, and generate zero waste from operations and events. Furthermore, it will be powered by 100 percent renewable energy, using the 'greenest ice in the world' by creating ice using reclaimed rainwater.
"We've secured naming rights to the historic arena previously known as KeyArena. Instead of naming it after Amazon, we're calling it Climate Pledge Arena as a regular reminder of the importance of fighting climate change," said Bezos in a statement.
"We look forward to working together with Oak View Group, a new Climate Pledge signatory, and NHL Seattle to inspire global climate action."
The arena is a few block away from Amazon's HQ in Seattle and offices for Google, Facebook and Apple.
While this pledge was made last year, the fight to become carbon neutral has proven to be a challenge for the company. In its 2019 Sustainability report, Amazon showed that its carbon footprint rose by 15 percent, with emissions increasing by 22 percent from 2018.
"Like many companies in high growth mode, we look at the absolute tons of carbon in our footprint, but also at how we are improving our carbon intensity," said the report. "Our first year-over-year comparison shows progress as we continue to make investments in innovation, technologies and products that will decarbonize our operations over future years."
On Tuesday, Amazon announced it $2 billion Climate Pledge Fund, which will be funnelled into startups to help build sustainable technologies across various industries, including transport, food and manufacturing.
"The Climate Pledge Fund will look to invest in the visionary entrepreneurs and innovators who are building products and services to help companies reduce their carbon impact and operate more sustainable," Bezos explained.
"Companies from around the world of all sizes and stages will be considered, from pre-product startups to well-established enterprises. Each prospective investment will be judged on its potential to accelerate the path to zero carbon and help protect the planet for future generations."
Amazon currently has 91 renewable projects across the world.
Power Retail is dedicated to providing critical and live e-commerce retailer benchmarking data and shopper insights for the online retail industry. Click here to find out more about Power Retail E-Commerce Intelligence or here to sign-up for the free weekly Pulse Newsletter for more essential online retail content.