Inside Amazon Australia's Christmas Hiring Spree
Australia has a big Christmas coming, and Amazon Australia is starting its prep early. The retailer is gearing up for a massive Christmas season, hiring more than 1,000 seasonal workers to ease the strain.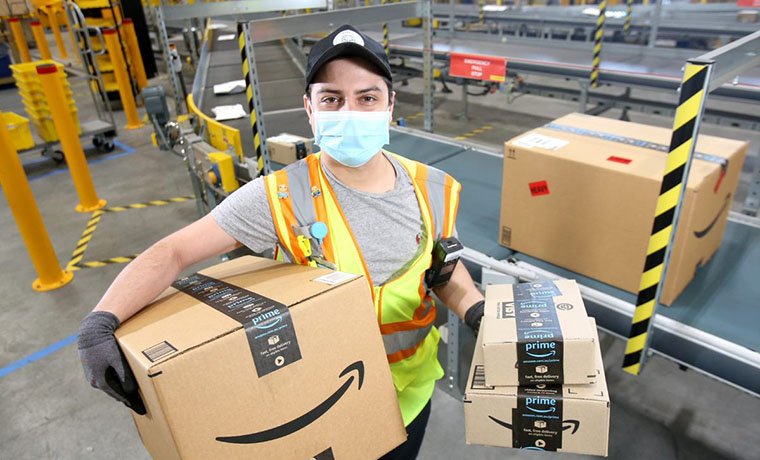 Online is set to break records again this Christmas as two of Australia's largest states, Victoria and Sydney, remain in lockdown in the lead-up to the holiday season. As such, Amazon Australia is planning to expand its team to help reduce the strain.
The online retailer will hire around 1,000 seasonal workers across Sydney, Melbourne and Brisbane, in fulfilment centres and Amazon Logistics. Specifically, Sydney will onboard about 400 new roles, Melbourne takes the lead with 600 hires, and Brisbane will hire about 100 new people.
Amazon has been experiencing massive growth in its online sales, resulting in an earlier hiring spree of more than 600 permanent roles at sites in 2021. Currently, the retailer operates five fulfilment centres and 11 Amazon Logistics centres across Australia, in Melbourne, Sydney, Newcastle, Perth, Brisbane and the Gold Coast.
"We are pleased to offer job opportunities across the country at a time when they are needed most," shared Craig Fuller, the Director of Operations at Amazon Australia. "There are opportunities for motivated, enthusiastic people from all backgrounds, and we look forward to welcoming them to our sites around Australia as we head into the holiday period."
A report from Australia Post and Power Retail indicates that in the eight weeks to 21 August 2021, online purchasing volume in NSW increased 48.2 percent YoY. Victorians increased their online purchase volume by 14.5 percent week-on-week in the seven days leading to 21 August 2021. And it's not slowing down any time soon.
According to the latest Trajectory Report from Power Retail, Australian e-commerce revenue is set to exceed growth of 11 percent YoY for September. As predicted by both Power Retail and Australia Post, the holiday season could be the biggest yet. Consumer confidence is high, with 83 percent of consumers planning to spend the same or more online next month – this is the highest it has been all year.
The online giant recorded a 44 percent increase in Net Sales to $125.6 billion for the fourth quarter in 2020, compared to $87.4 billion for the previous quarter in 2019. for its Fy20 results, Amazon recorded a 38 percent increase in Net Sales to $386.1 billion, compared to $280.5 billion in 2019. "Amazon is what it is because of invention," shared former CEO and Founder of Amazon, Jeff Bezos, in February 2021. "We do crazy things together and then make them normal. We pioneered customer reviews, 1-Click, personalised recommendations, Prime's insanely-fast shipping, Just Walk Out shopping, the Climate Pledge, Kindle, Alexa, marketplace, infrastructure cloud computing, Career Choice, and much more.
"If you do it right, a few years after a surprising invention, the new thing has become normal. People yawn. That yawn is the greatest compliment an inventor can receive. When you look at our financial results, what you're actually seeing are the long-run cumulative results of invention. Right now, I see Amazon at its most inventive ever," he said.
The e-commerce landscape is changing. With a Power Retail Switched On membership, you get access to current e-commerce revenue and forecasting, traffic levels, average conversion rate, payment preferences and more! Sign up today and receive an Apple Watch Series 6 – Find out more here.