This Online Retailer Just Made the Switch to 100% Recycled Delivery Satchels
This is the first major ANZ retailer to make the switch to 100 percent recycled delivery satchels as a part of its five-point sustainability plan.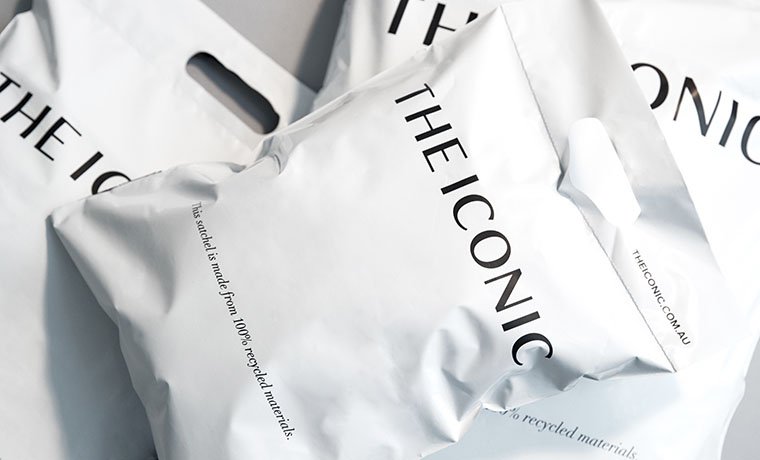 THE ICONIC is launching a fully recycled delivery satchel and transition out of its traditional black bag.
The retailer in the 'first major ANZ retailer' to make the switch, delivering millions of parcels every year around Australia.
The black bags will be transitioned out, replaced with a white recycled plastic alternative.
These new satchels have been approved and certified under GECA's (Good Environmental Choice Australia) Recycled Product Standard.
THE ICONIC has been working towards a more sustainable future, becoming a signatory for the Australian Packaging Covenant (APCO) since 2018.
As part of this movement, the retailer launched the 2022 Sustainability Strategy, which includes a 'holistic' five-point plan.
Within this plan, THE ICONIC aims to transition 100 percent of its shipping packaging to be made using recycled products by 2022.
"As Australia and New Zealand's leading fashion and sports destination, we are wholeheartedly focused on our continued commitment to drive positive sustainability and environmental outcomes via our mantra of 'progress, over perfection''," said Janna Quaintance-James, Sustainability Lead at THE ICONIC and Chief Sustainability Officer at Global Fashion Group.
"Packaging is a huge part of our sustainability strategy and after a twelve-month search, we're incredibly proud to offer our customers and wider industry an improved satchel alternative. Made from 100% recycled materials, it's a great feeling to know that our new ICONIC satchels have had a previous life, and will continue to do so when recycled properly via REDcycle bins. We know we still have more to do to successfully achieve all five of our 2022 packaging targets, and through our progress, we hope to encourage other large businesses to recognise their part in driving collective, actionable change."
THE ICONIC's five-point plan includes the transition to 100 percent recycled content packaging and shipping, 70 percent or more of the retailer's private label poly-bags made of recycled plastic.
Moreover, there is a plan to have 100 percent of THE ICONIC's private label primary packaging to be fully recyclable in Australia and have all paper and cardboard packing to be made from verified recycled pulp.
The last step in the plan includes 80 percent of the retailer's private-label SKUs to feature on-package communication about the product's sustainability and recyclability.
Australian and New Zealand customers will have access to the recycled bags from March 26 – a full rollout will occur later in the year following the full transition out of black plastic bags.
Power Retail is dedicated to providing critical and live e-commerce retailer benchmarking data and shopper insights for the online retail industry. Click here to find out more about Power Retail E-Commerce Intelligence or here to sign-up for the free weekly Pulse Newsletter for more essential online retail content.