What Glossier's Downfall Can Teach Retailers
What's going on with Glossier? That's the question on everyone's lips as the clean skincare brand battles new challenges. Here is why Glossier may be losing its shine with consumers, and what retailers can learn from it.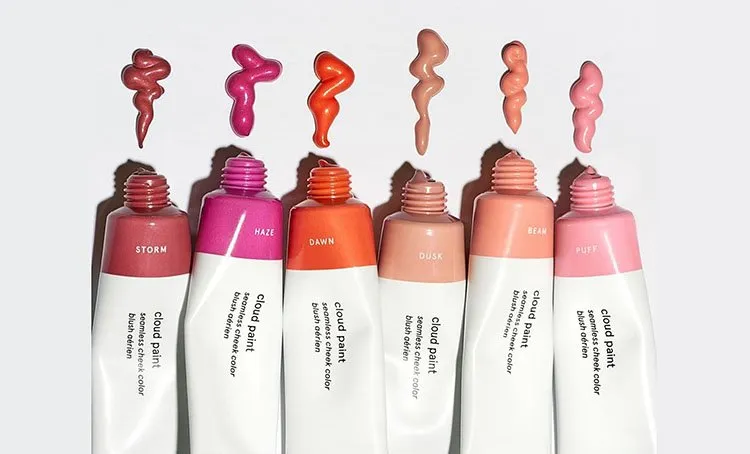 Last week, Glossier laid off 80 employees, with CEO Emily Weiss sharing a letter to employees explaining how the brand got ahead of itself and went overboard with the hiring process. This comes off the back of its Series E funding of $80 million to help scale its multichannel strategy six months ago.
When it first launched, it was known for its strong community and innovation. But accusations of toxic workplace culture, overspending, absence of development and a lack of diversity in its representation, it's looking shaky for the cult skincare brand.
The Golden Child of Innovation, Retail and Skincare
Glossier was once the golden child of innovative retail and a shining star in the skincare industry. Cited as the innovator of retail, skincare, and creativity, it was destined to be the game-changer of the industry.
In 2019, the business tripled its worth and raised an extra $100 million in its Series D funding, led by Sequoia Capital.  The same year, its valuation hit a whopping $1.2 billion and had more than one million customers in its database.
In June 2021, it raised a further $80 million in Series E Funding, skyrocketing its valuation to $1.8 billion.
"We are building an entirely new kind of beauty company: one that owns the distribution channel and makes customers our stakeholders," said Weiss at the time.
Glossier was set to redefine the beauty industry, building an 'exceptional' relationship with customers and presenting a new kind of DTC business. But it seems that it's all crashing down.
In 2020, Glossier made the decision to close its stores across the US and laid off its staff in the process. Due to the pandemic, Weiss explained that the business had to re-examine what was most important for the business. "As a digital-first company, we have always viewed our offline experiences as a channel for connection and community, and that mandate has not changed," she said in 2020.
The majority of Glossier's sales come from its digital channel, but as stores re-opened and online sales started to level back to a steady rate, the business didn't bounce back to its former glory.
A Lack of Representation
In what ways has the business failed to live up to the hype, you may ask? Ironically, all of the reasons why it was so hyped and unique, are the reasons for its apparent downfall.
Glossier is a business built for the next generation of consumers. Young Millennials and Gen Z are its core demographic, and although the products themselves are in-line with the preferences of this group, its actions and ethos have shown the opposite.
To start with, there have been many accusations of inconsistencies with the brand messaging. Glossier is all about putting skincare first, makeup second, but as the pandemic changed the mindset of consumers, the business failed to adjust with the times.
"Before the pandemic, a lot of people were into chasing a perfect, polished and effortless lifestyle but we all realised just how much work we were putting in," said Alicia Lartey, an Aesheticican and influencer, to Refinery29. "Life isn't effortless and if it is, it's only for one percent of people. In the pandemic, many ended up with acne flare-ups and Glossier isn't really known for treating anything like that."
"Consumers want real people and have realised how much polishing and editing went into that social media image, which isn't attainable," she said.
We've mentioned it over and over, about the importance of being honest and transparent with consumers. Shoppers are happy to abandon a brand if they don't resonate with the brand's values, and Glossier is proving this to be the case.
Glossier was all about putting people first. So when accusations of racism were made public in 2020, it put a hyper focus on the way businesses treat their staff. At the time, Weiss apologised for the behaviour presented, saying that the startup 'failed to create an inclusive, safe environment.
"We're so sorry that we didn't create a workplace in which our retail employees felt supported in the most critical ways," read the official statement. "I am sorry we let you down."
Its innovation (or lack thereof) was another issue for investors. When it first launched, it's was a game-changer for the industry. As a disrupter of the beauty and brick-and-mortar industries, there were high hopes that the business would continue its upward trajectory.
But as it closed stores during the pandemic and pushed a digital-first strategy, the innovation slipped out of the hands of the team. There was nothing new or fresh from the brand. Coupled with the other issues it was facing, there's a worry that the business may have reached its peak.
The Big Digital Lay-Off
Treating employees well is a fundamental ingredient to creating a productive and successful business. Last week, Weiss sent out an email to its employees explaining its recent decision to lay off one-third of its business. She explained that a lack of 'laser focus' on the brand has resulted in over-hiring and over-spending.
Interestingly, the majority of the employees that were fired from Glossier worked in the tech team. Remember, the business has just scored an $80 million raise from its Series E funding to secure its online and offline amplification. "When Glossier launched as a digitally native beauty company, we were an anomaly in our industry, which has been slow to innovate beyond brick and mortar," said Weiss about the funding.
"Now, nearly seven years into Glossier's journey, our strategy and the expectations of beauty consumers everywhere are aligned: beauty discovery increasingly begins online as people look for inspiration from friends and strangers alike, and customers want to move fluidly between immersive and personalised e-commerce and retail experiences."
As a result of the funding, the business explained it would be amplifying its e-commerce channels. However, the move to lay off members of the digital team say otherwise.
"Over the past two years, we prioritized certain strategic projects that distracted us from the laser-focus we needed to have on our core business: scaling our beauty brand," said Weiss. "We also got ahead of ourselves on hiring. These missteps are on me."
"We parted ways earlier today with more than 80 members of our team. This was a difficult but necessary decision," read a statement from a Glossier spokesperson to Modern Retail. "We've always been a people-powered organisation, and are grateful to all of our current and former team members for their contributions to Glossier. We believe these changes leave us well-positioned as we continue to grow the brand long into the future."
Did Weiss and her team lean too heavily on the digital aspect? Perhaps. Was it too hasty in switching off its physical presence and focussing on digital without future-proofing for a post-pandemic world? It seems so.
What Can Retailers Learn?
It's not just about the products that you sell, it's about the entire package that you promote. Staying true to the ethos that you present – be it about skincare, furniture, books or groceries – is just as important as the things you sell. You have to stay true from start to finish, otherwise, you risk losing your market.
Another important lesson is to not put all of your eggs in one basket. The e-commerce market exploded in 2020, but as predicted, the market levelled out once stores were able to re-open.
The Glossier tale is a cautionary one. Businesses need to constantly assess their weak spots, challenge the status quo and deliver on their promises. Retailers should also evaluate all aspects of the current market. Even if online sales are skyrocketing, businesses need to make sure that all channels are taken care of – you never know what may happen in the future.
The e-commerce landscape is changing. With a Power Retail Switched On membership, you get access to current e-commerce revenue and forecasting, traffic levels, average conversion rate, payment preferences and more!