E-COMMERCE TIME MACHINE: Rivers
Rivers is an iconic Aussie retailer. Established in 1979, it has provided shoppers with footwear and clothing for men, women and children. As one of the first online retailers in the country, it launched its e-commerce platform in 1999. Let's take a look at how much Rivers has changed since those days, as we enter the Power Retail e-commerce time machine. 
In the fast-paced world of e-commerce, it's not enough to set and forget your online platform. The chances are, if you do, you run the risk of falling behind. While this is a sentiment well-understood today, it took retailers several tears to find this out a decade ago. Today we're exploring the e-commerce evolution of Rivers, and how its online channel transformed from the late '90s to today.  (Please pardon the lack of content between 2000-2004, Flash is no longer an option!) You may notice few changes between the mid-00s (and so much blue!), which is something that would unlikely be replicated today. It's fascinating to see how e-commerce was often considered an afterthought before the huge e-commerce boom in the 2010s.
1998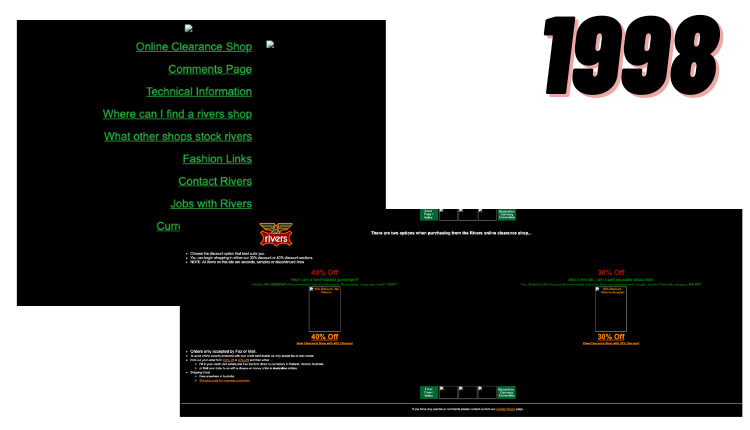 2004
2007
2009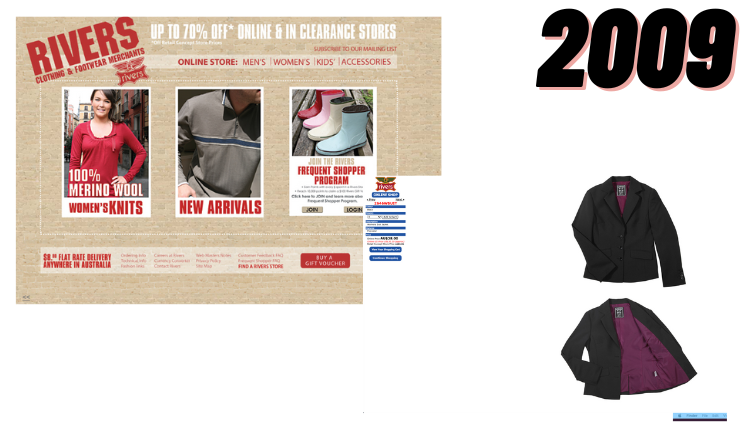 2011
2013
2015
2017
2019
2022
The e-commerce landscape is changing. With a Power Retail Switched On membership, you get access to current e-commerce revenue and forecasting, traffic levels, average conversion rate, payment preferences and more!