Adapting to the Changing Retail Landscape and Customer Experience
The bricks to clicks phenomenon triggered by the coronavirus pandemic has got Australian retailers and consumers bracing for what might be the busiest online Christmas ever. Record numbers of Aussies are now shopping online, and with the busiest season just around the corner, retailers need to get prepared as people start buying presents early.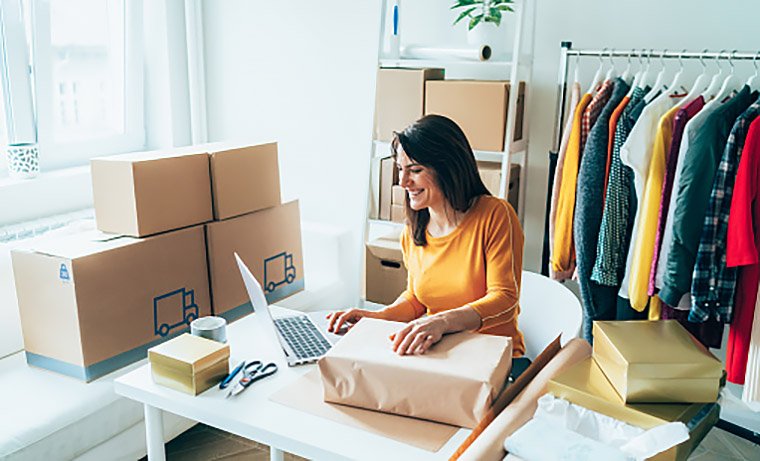 The Shopify, Stripe and Sendle virtual event Optimising for Online, showcased how to adapt to the changing retail landscape and own the customer experience. If you missed it, don't stress. Here are the key takeaways and top tips from the panellists to help make this holiday season your best yet.
Hosted by Bernard Salt, the experts from Shopify, Stripe and Sendle, and the National Retail Association discussed the upcoming holiday season, and how the pandemic has changed the way Australians understand and approach the retail industry.
"From March to August, 8.1 million Australian households shopped online – that's a 16 percent increase on the same period last year," Salt explained. "More than 67 percent of new households have continued to shop online. A quarter of those new households have become regular shoppers, making two or more purchases per month on average."
A report from Power Retail found that nine out of ten shoppers will start their Christmas shopping in October and November, with only five percent leaving it to the last minute.
Major retail changes
There have been fundamental shifts in the retail industry this year, especially towards e-commerce. Shopify has seen thousands of merchants pivoting or expanding their business online. "We had 44 percent growth in that critical month (April) when everyone went into lockdown," said Rhys Furner, Shopify's Head of Partnerships & Sales Development.
"The saying we've all heard now is 'There are decades where nothing happens and there are weeks when decades happen.' We've seen decades of growth in terms of e-commerce as a percentage of total retail sales in just a few months. What we thought would be possible in 2030 has been fast-tracked to today," he said.
One of the biggest changes during the pandemic has been international expansion, with 57 percent of retailers making it a key priority. But expanding your international presence online comes with challenges. For example, for payment providers, the pandemic has become a breeding ground for fraudsters.
"Fraudsters have taken advantage of market volatility," said Hayley Hopwood, the Head of Australia and New Zealand Growth for Stripe.
"Thirty-nine percent of retailers have experienced an increase in fraud attempts since COVID-19. There are opportunities for retailers to consider machine learning solutions to mitigate and prevent some of this risk."
Last-mile delivery has become a lifeline for the Australian economy as traditional bricks and mortar stores closed during the lockdowns and moved online Delivery networks have been inundated with parcels due to the increase in online shopping. For James Chin Moody, the Co-Founder and CEO of Sendle, parcels and last-mile delivery volumes have gone through the roof.
"From March to September our parcel volumes increased by 2.3 times. In August, we did more parcel deliveries to Melbourne than in the first three months of the year combined," he explained.
"Twenty-two percent of Sendle's small business customers had to pivot online so they could keep selling during COVID-19, 49 percent have grown their business during the pandemic, while 27 percent have maintained their business. Of course, this means that a quarter have seen a decline, which really tears at my heart. That all being said, there is some good news. Eighty-five percent said they were feeling optimistic heading into the busy Christmas period despite all the challenges," he said.
From supply chain disruptions to buy local sentiment, there's no doubt the pandemic has fundamentally transformed the Australian retail landscape. "There are virtually no aspects of the industry which have been left untouched, from stores to the supply chains," said Lindsay Carroll, the Acting CEO of the National Retail Association.
"We've seen an accelerated shift to online, accompanied by changing consumer behaviour and attitudes. However, retail is traditionally a very resilient and adaptable sector. Innovation is part of its DNA and can be seen in all shapes and sizes – from virtual changing rooms to AI-driven demand management drone deliveries and smart shopping. But one thing is clear: in the face of the new challenge, retailers will need to summon up all that innovation and creative thinking simply to survive," she said.
Is the online shift here to stay?
The shift to online has been so profound that it is hard to imagine going back to pre-COVID times.
"Sometimes you're pushed into change but you seldom retreat," said Rhys Furner. "So I think the behaviour change is well and truly here to stay. We have seen an 'online first' mindset from buyers continue beyond the peak of COVID in April."
How can retailers take advantage of this online adoption and flourish during the toughest times? According to Hayley Hopwood, there are three key areas regarding payments that may be helpful for businesses to consider:
"User Experience: It's imperative to create a seamless checkout experience. Shopping is fun; paying not so much! The checkout needs to be minimal clicks and a beautiful design. In reality, nearly 80 percent of online shoppers abandon their carts before making a purchase. A best in class shopping experience means your site should be responsive, streamlined, predictive and mobile optimised," she said.
"Offer Choice: Customers are paying in a variety of different ways today — credit, direct debit, digital wallets, buy now, pay later — and it's even more pronounced internationally. Retailers need to be agnostic in payment choices and let the shopper decide how they want to pay.
" International payments. If you do accept international payments, ensure that your checkout flow is localised based on where the buyer is paying from. This increases conversion and creates a local look and feel for international shoppers," she explained.
Entering the holiday season
Christmas is fast approaching, and with the emphasis on gifting not gathering this year retailers need to prepare for the influx of online orders that may come their way, earlier than usual.
In November, there is a continuum of big shopping events from Click Frenzy on November 10 to Singles Day, Black Friday and Cyber Monday. , The entire month has unofficially been labelled 'Black November.'
Buyers will be feeling a sense of urgency on two fronts – product supply issues and concerns about purchases arriving on time. According to Rhys Furner, retailers can prepare for the biggest sales month of the year by:
● managing inventory for unpredictable buying patterns
● having gift options in the checkout
● shipping gifts to multiple addresses to avoid people resending
● managing potential cut off delivery dates
● managing social distancing policy for click and collect orders
● timing of promotions to capture the share of wallet, but manage inventory
On the shipping side, James Chin Moody is warning retailers to get prepared early. "Based on Sendle data, we predict our parcel volumes will be 2.5 times higher than last Christmas so if you can afford it, hire some temporary staff to help pack those parcels."
James is also encouraging retailers and consumers to exercise some patience and be nice to the delivery driver. "Delivery drivers will be extra busy meeting the increased demand while having to operate safely in this COVID environment. Please be patient and understand there might be extended wait times as a result, and make sure you inform your customer through your various communications channels," he said.
How can retailers capitalise on what is expected to be Australia's biggest online shopping frenzy? According to Lindsay Carroll, retailers who build a textured narrative around their brand products will experience more success during the peak shopping period.
"They are doing things like communicating their values, explaining what they do to support relevant causes like mental health. They are building excitement about the design and creation of their products. They are even creating extra anticipation around the delivery process, sending photos of the order being packaged and loaded, and regular updates while it is in transit so the consumer is really invested in the entire process," she said.
"All these sorts of things help build an ongoing and meaningful emotional connection. Have processes locked down for delivery – 89 percent of shoppers plan to start shopping early due to concerns about delivery times."
Australians are expected to continue shopping online beyond COVID, so retailers need to be prepared to adapt to customer behaviours and experiences. The speed at which you adapt comes down to the technology you use. Companies like Shopify, Stripe and Sendle provide a seamless and intuitive end-to-end selling, payment and shipping experience that is easy to use and manage. Twenty has been a year like no other, and with such dramatic changes in the retail landscape comes the need to innovate and act quickly.
If you'd like to see the recording of the event click here. 
Like this story? Click here to find out more about Power Retail E-Commerce Intelligence or here to sign-up for the free weekly Pulse Newsletter for more essential online retail content.